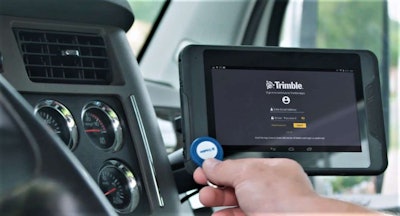 When you're raring to go, punching in your username, screen name, or password on any device is a hassle. And heaven help if you forget one or the other.
Trimble recognized this and has developed something called Tap & Go technology for its FieldMaster Logs ELD solution. ELDs, or electronic logging devices, are electronic log books, required by the federal government, that record driving hours on heavy duty commercial trucks. (See our article on the same here, if you're unfamiliar with the regulation.)
With Tap & Go, instead of drivers having to key in their user names and passwords on a truck's in-cab ELD monitor, they simply tap their device on the monitor and it automatically registers their name, logs them in and activates the ELD timer and other functions. Tap & Go can be attached to employee ID cards, keychains, badge cards or dime-sized stickers that adhere to a wallet
Tap & Go is based on a technology called Near Field Communication, which uses a low-cost card or sticker than can be purchased from a variety of sources. There is no system set up or other IT requirements. Drivers can initialize a Tap & Go device themselves and start using it immediately.
To see Tap & Go in action, check out Trimble's 30-second video below: