By Amy Materson

No ripping
Scarify gravel, bitumen and sealed asphalt roads without ripping with FAE USA's MTH soil stabilizer and asphalt grinder attachment, which also functions as a forestry tiller. Available in three models, the MTH attaches to tractors ranging from 230 to 360 horsepower, and is available in working widths from 82 to 100 inches with a 20-inch working depth. Variable Displacement Chamber technology ensures correct particle sizing, and an independent rotor equips with different tools according to the application. Add a binding agent such as cement to use the MTH as a traditional soil stabilizer.
Visit EquipmentWorld.com/info
SNOW MOVER
Expand the versatility of your equipment with the Wacker Neuson WL 30 articulated wheel loader, which can be outfitted for snow removal during the winter and can throw, push, sweep or haul snow. Narrow enough to fit on a sidewalk, the WL 30 also features working and driving lights useful for low light situations. The heated cab with adjustable seat, increased legroom and user-friendly controls make snow removal easy and comfortable, and the machine's low overall height allows you to work under canopies or other structures.
Visit EquipmentWorld.com/info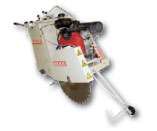 CONTROLLED COLLECTION
Remove dust and shorten cleanup times with EDCO Vacuum Systems' portable electric powered Vortex-200 and Vortex-290 dust collection systems, which handle material such as concrete chips, fine powders and drywall dust. The systems have MicroClean filters and dropdown dustpans to simplify waste removal, and the units are manufactured from crack-proof cast composite material. A gasoline powered model, the Vortex-300, is useful for dust control in remote locations where electric power is not accessible.
Visit EquipmentWorld.com/info
EDITOR'S PICK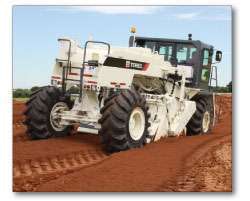 Cut 20 inches
Boost performance while saving on fuel costs with the Terex RS446C, a 415-horsepower reclaimer/stabilizer with a two-stage engine drive and three-speed cutter transmission that provides production rates of 155 feet per minute. Terex has decreased the turning radius by 50 percent to 14 feet by replacing spindles at the wheels with kingpins to enable the tires to pivot closer to the frame. Four-wheel drive ensures reliable operation in challenging soil stabilization applications, and the RS446C's four-wheel steering offers four steering modes – crab, coordinated, front only and rear only. The service center at the rear of the machine simplifies maintenance through single point access for fluids and lube systems, while the frame design offers open access to the engine.
New on the RS446C:
• A direct shift for the cutter transmission allows selection of one of three cutter speeds from 128 to 209 rpm
• Choose between 600-gpm water only or water/emulsion additive systems
• 20-inch maximum cutting depth is a 25-percent increase over previous models.
Visit EquipmentWorld.com/info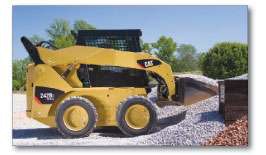 BIG ENGINE BOOST
Caterpillar has updated their B-Series 3 loaders, including adding a larger engine and updated hydraulics to the Model 242B3 skid steer. While small enough to operate in tight spaces, the 242B3 now has a 71-net-horsepower Cat C3.4 DIT diesel engine, boosting net power by 25 percent compared to B-Series 2 models, as well as increasing peak torque by 28 percent. The 242B3 also has larger lift and tilt cylinders to improve boom and bucket breakout force from 13 to 19 percent, and rated operating capacity has been increased to 2,150 pounds at 50 percent of tipping load.
An improved hydraulic system increases standard flow from 15.6 to 22 gpm, plus ups hydraulic horsepower by almost 40 percent.
Visit EquipmentWorld.com/info

POWER CONTROL
Protect auxiliary power equipment such as pumps and generators with Parker Chelsea's Electronic Overspeed Controls for their Powershift PTOs. Featuring a simple plug-and-play installation in the cab, the EOC ensures the equipment functions within required operating limits. No special equipment is needed to set the high and low operating limits, and the unit is encased in a tamper resistant housing that complies with FRI and EFI emissions found in trucks equipped with two-way radios.
Visit EquipmentWorld.com/info
FORK IT OVER
Transport and load materials easily with New Holland Construction's pallet forks designed
for skid steers and compact track loaders. Available with either 42- or 48-inch tines, the fork assemblies offer a choice of a 4,000- or 5,500-pound rating. The frame's mounting angle supplies forward tilt to simplify load pickup, as well as rollback for transporting loads.
Visit EquipmentWorld.com/info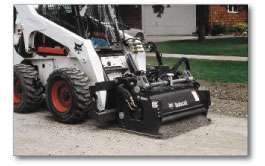 PRODUCTIVE PLANER
Choose from cutting widths ranging from 14 to 40 inches with Bobcat's planer attachments for skid steers and compact track loaders. Useful for pavement repairs and cleaning up around milling machines, attachments are available for carriers with standard and high flow hydraulics with a range of depth adjustments up to 6 inches. The planers are equipped with 26-inch hydraulic side shift, as well as all-purpose drums that can be easily changed to a slot cut drum or a different size all-purpose drum.
Visit EquipmentWorld.com/info

ECONOMICAL AUGER
Atco Equipment's Blue Diamond H-D Series planetary drive auger attaches to skid steers and is an economical alternative for jobs where the Extreme Duty model is not needed. The H-D Series Auger is available in two sizes: The HD1000, which runs a 24-inch bit, and the HD1500, which runs a 30-inch bit. The unit features a 2-inch hex shaft and is guaranteed against pullout.
Visit EquipmentWorld.com/info
DEPENDABLE DETECTION
Penetrate a range of surfaces such as soil, clay, concrete and brick with US Radar's Seeker SPR, an easy-to-operate subsurface penetrating radar system. The Seeker is a complete imaging system housed in a portable unit for convenience and practicality. Its design lets you set parameters such as soil settings and algorithms via a touch screen. Five antenna frequency options are available. The Seeker's internal memory boasts data storage capacity of more than 50,000 linear feet, and two USB ports and a serial port enable data transfer.
2,000 MHz – small objects and fine wire to 1½ feet
1,000 MHz – rebar and wire mesh to 3½ feet
500 MHz – soil disturbances and small pipes and cables to 14 feet
250 MHz – larger pipes and cables to 30 feet
100 MHz – sizeable objects such as bedrock and large pipes to 100 feet
Visit EquipmentWorld.com/info

ENHANCED EXCAVATOR
Experience increased productivity with Komatsu's PC228USLC-8 hydraulic excavator, which features enhancements to the hydraulic system, increased lift capacity and reduced fuel usage compared to previous models. The unit's closed center load sensing system increases efficiency without increasing fuel consumption by lowering hydraulic loss through variable speed matching, as well as an increased piping size on the bucket circuit and a quick return valve. A short tail swing radius and round cab design enables the excavator to work in confined areas, and a high boom foot position shortens the swing radius. The PC228USLC-8 is equipped with Komtrax technology and the company's Equipment Management Monitoring System.
Visit EquipmentWorld.com/info

MEASURING UP
Simplify distance measurement with Johnson Level and Tool's Model 40-6001 laser distance measure, which works both indoors and outside. The unit is accurate to 1/16 inch over a distance of 165 feet and includes a sound activated measuring mode, 10-measurement memory and indirect measurement capability for length and height, as well as single distance, area and volume measurements. The LDM has a large backlit LCD screen and compact size.
Visit EquipmentWorld.com/info