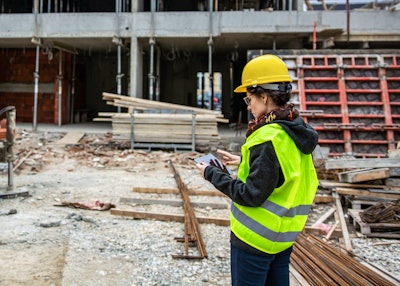 Getty Images
The construction industry added 15,000 jobs in April, according to an analysis of federal data by both the Associated Builders and Contractors and the Associated General Contractors of America.
Nearly 95% of the increase was from residential building and specialty trade contractors, which reportedly grew by 14,200, or 0.4%.
Nonresidential construction firms – nonresidential building and specialty trade contractors along with heavy and civil engineering construction firms – added only 800 employees in April. According to the associations' analysis, nonresidential specialty trade contractors added 10,700 positions. However, the number of heavy and civil engineering jobs decreased by 8,100, while nonresidential building lost 1,800 jobs on the net, leading to the minimal 800 position gain.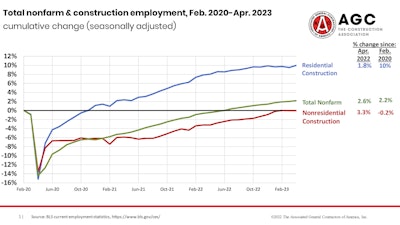 Some association officials believe the industry likely would have added more positions if contractors could find qualified workers.
"Contractors can't find, reach, hire, and train workers fast enough to keep pace with demand," said Stephen E. Sandherr, AGC's chief executive officer. "The pool of qualified, available labor is the smallest the industry has ever seen for April."
Looking beyond the labor market and coupled with another interest rate increase, Anirban Basu, ABC chief economist, suggests that a softening of the economy is apparent.
"Regional banks remain under pressure, and while it is conceivable that the end of the banking crisis is near, credit conditions are likely to tighten further during the months ahead," he said. "This is especially problematic for commercial real estate, which faces a debt-maturity wall over the next four years. Developers and other private purchasers of construction services are likely to suffer difficulty refinancing debt going forward, dampening demand for new construction."
A separate government report released earlier indicated that job openings in construction at the end of March totaled 355,000, just shy of the all-time high for March of 359,000.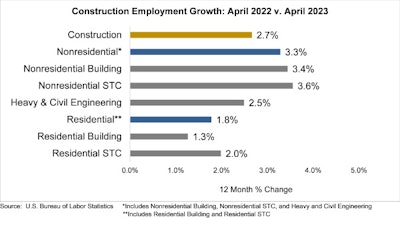 "Despite adding just 800 net jobs in April, nonresidential construction payrolls have expanded at a faster pace than the broader economy over the past year," Basu said. "Job creation continues to exceed expectations, and April saw the unemployment rate return to the lowest level since 1969."
As he noted, per the report, the average hourly earnings for production and nonsupervisory employees in construction – covering most onsite craft workers as well as many office workers – jumped by 6.7 percent over the year to $33.94 per hour.
Per the analysis, in April, construction firms provided a wage "premium" of nearly 19 percent compared to the average hourly earnings for all private-sector production employees.
"Put simply, the demand for workers remains significantly above the supply," Basu said. "This is especially true for contractors, a majority of whom intend to increase their staffing levels over the next six months, according to ABC's Construction Confidence Index."
Meanwhile, the construction unemployment rate dropped to 4.1% in April, the lowest in the 23-year history of the data being collected. Unemployment across all industries decreased to 3.4%.
Sandherr and other AGC officials cite the federal government's lack of support for the continued labor crisis. The analysis states that the government spends $5 to encourage students to go to college and workers in service sector professions for every $1 it invests in career and technical education.
"Federal officials are making massive investments in infrastructure even while their funding policies actively discourage most future workers from considering careers in construction," Sandherr said. "They don't seem to want our citizens to work in construction even while they block people from other countries from lawfully entering the profession."