Getty Images
Could a looming recession be another arrow in the back for the construction industry's already critical labor shortage?
Construction is estimated to have the third-highest risk for job losses in the next few months, behind information services and transportation and warehousing, according to the latest Job Loss Risk Index from The Conference Board, a nonprofit think tank and business membership organization.
Utilities, mining and logging are at a medium risk of job losses during a recession as labor demand remains relatively stable.
The Conference Board calculates job-loss risk based on the following indicators: exposure to labor shortages, sensitivity to monetary policy, productivity and job function, age composition and experience of its workers, recovery from pandemic-era job losses, and longer-term changes in labor demand.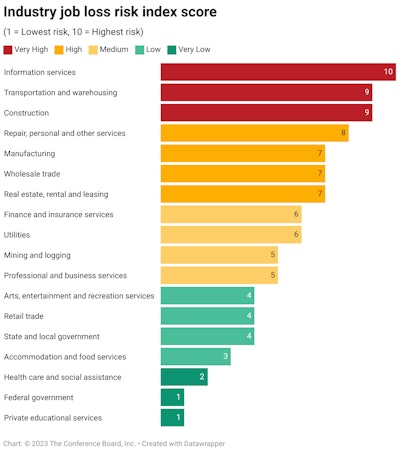 Amid ongoing interest rate hikes and supply chain challenges, Associated Builders and Contractors Chief Economist Anirban Basu says capital for projects could begin to dry up causing demand to dissipate and backlogs to falter. And as demand weakens, so does job security.
Construction is particularly sensitive to interest rate hikes, which raise the cost of borrowing and weakens the housing market. The report notes that in recent months, quits rates have fallen rapidly, suggesting labor demand is cooling and workers are finding it more difficult to change jobs.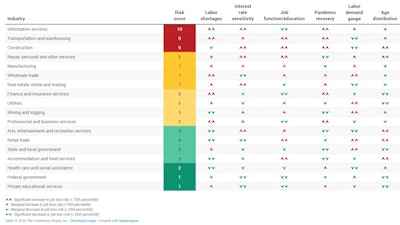 The construction industry lost 9,000 jobs on net in March, according to a recent ABC analysis of U.S. Bureau of Labor Statistics data, with nonresidential construction employment falling by 1,800 positions, nonresidential specialty trade losing 6,100 positions, and nonresidential building jobs dropping by 2,800. Heavy and civil engineering was a bright spot for the sector, adding 7,100 net new jobs.
"The March employment report may hint at growing economic weakness in the months to come," said Basu. "While the nonresidential construction industry lost fewer than 2,000 jobs, the addition of jobs in publicly financed construction categories masks more substantial weakness in private segments. It is precisely those private segments that tend to be most affected by slowing economic growth, deteriorating confidence and concerns regarding the nation's banking system.
Despite that, layoffs may not be as extreme as at the height of the Covid-19 pandemic or the Great Recession due to strong labor demand and constrained labor supply. The construction unemployment rate declined to 5.6% in March, while unemployment across all industries decreased from 3.6% in February to 3.5% last month.
"While the nation continues to progress economically, headwinds are building," said Basu. "Recession remains a likely outcome within the next 12 months. Contractors generally report healthy backlog and confidence regarding the next six months, but the industry may be positioned for meaningfully weaker conditions in 2024."
Contractors should take caution in laying off workers if they believe the anticipated recession will be short and shallow, as rehiring will continue to be difficult and expensive.