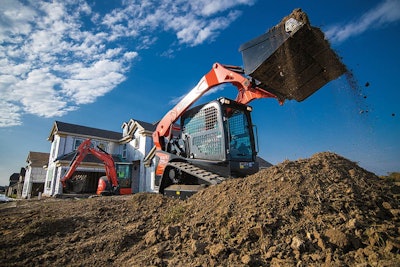 Kubota
New construction equipment has been difficult to source during the last three years due to ongoing supply chain disruptions. While there are early signs of improvement in the supply of new machines, many dealer lots remain sparse as contractors continue to snap up equipment as it arrives.
Given that, we decided to take a look back at financed new construction equipment data for 2022 to see which models were most popular – in terms of unit sales – by state.
The data comes from EDA, a division of Randall Reilly, the parent company of Equipment World, that tracks Uniform Commercial Code-1 filings used by lenders when a machine is financed. EDA reports are continually updated, and these numbers, while representing the majority of the 2022 results, may have changed slightly since this data was pulled in January.
Before we dive in, here are some things to consider when looking at the data. In less populous states, such as Alaska and Maine, financed sales can swing based on just a few deals. And because this data are based on machine unit counts, less expensive compact equipment – such as compact track loaders, skid steers and compact excavators – dominates the list.
Depending on machine type, financed machines represent 40% to 75% of the total number of machines of that type sold in the United States. While machines can also be bought by cash or letter of credit, buyers of higher-ticket items such as large dozers generally tend to finance these machines.
Here's the state-by-state breakdown of the most popular construction equipment models.
Compact track loaders dominated the charts, with the Kubota SVL75-2 as the clear leader in sales. It took the top-selling spot in 36% of U.S. states.
Combined with the Kubota SVL97-2 and Cat 259D3, the trio of compact track loaders accounted for 50% of the top-selling construction machines across all U.S. states.
While some second- and third-tier players have been making headway in the U.S., only 10 manufacturers made the list of top-selling construction equipment in 2022:
Bobcat
Case Construction Equipment
Caterpillar
Deere
Hitachi
Komatsu
Kubota
New Holland
Sany
Volvo Construction Equipment
Cat had the top-selling construction equipment by units financed in 30 states (and D.C.). Pockets of the Midwest and the coastal regions saw more sales go to Kubota and Deere.
As contractors hold onto equipment longer, some of the effects of the supply-chain disruption – and the evolving mix of machines in the market – are yet to be seen.