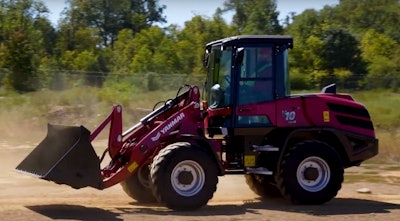 Yanmar
EquipmentWatch has named Yanmar's V10 as the small wheel loader with the highest retained value for 2022.
With a five-year retained value of 78%, the V10 was 14 percentage points higher than the overall average for the category.
For the EquipmentWatch awards, the retained value is a prediction for the value of a piece of equipment five years from now. Analysis was limited to models still sold in 2022 to ensure these results can be applied to buying decisions today.
Retained values are often related to the concept of depreciation, which is a measure of how far a piece of equipment's value decreases over time. Retained values are an important factor in equipment purchase or lease decisions, as some new equipment holds its value better than others over time. This could mean more money in your pocket when it comes time to trade it in.
V10
The 6-ton Yanmar V10 got an upgrade in 2022 – and a new color from when the compact wheel loader was first launched.
After the 2017 launch of a yellow V10, Yanmar changed its color to red for all its compact equipment, beginning in 2020.
It runs on a 72-horsepower electronically controlled Yanmar diesel engine.
Hydraulic quick couplers allow for fast and easy attachment changes.
Operational efficiency is further enhanced by parallel kinematics, which allows operators to lift loads precisely without the need for constant readjustment of the load angle, according to Yanmar.
The standard enclosed cab provides high visibility; a suspension seat with lumbar support, cushioning and extra-high backrest; and full climate control. It has two doors for entry from either side and increased ventilation. The cab is also rubber-mounted for a smoother ride.
A central lubrication system is an option for the V10 for providing constant lubrication while the loader is running.
Maintenance kits come with common maintenance and wear part replacement items, and the loader features convenient access to service items, the company says.
Quick specs
Operating weight: 12,787 pounds
Engine: 72 horsepower
Bucket capacity: 1.31-2.03 cubic yards
Tipping load, straight: 9,634 pounds
Tipping load, articulated: 8,510 pounds