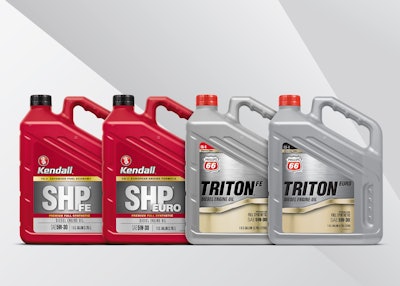 Phillips 66 has introduced four new engine oils under the Phillips and Kendall brands meeting FA-4 and CK-4 requirements.
The new oils are all 5W-30 in order to meet the industry's call for lower viscosity oils.
"The unique properties of this new generation of low viscosity oil will most benefit trucks rolling off the assembly lines this year and in the future," said Tony Negri, commercial products director at Phillips 66. "In addition to improving fuel economy, the new oils extend oil change intervals, and provide the enhanced wear protection that our customers have come to expect."
The FA-4 oils are the Phillips 66 Triton FE and Kendall's SHP FE. These oils are OEM certified for Cummins CES 20087 and Detroit Diesel DFS 93K223 and contain an enhanced additive system that provides increased engine protection of critical parts. Phillips says the oils have the potential to increase fuel economy by up to 3 percent.
The CK-4 oils are Triton Euro from Phillips and SHP Euro from Kendall. These oils meet ACEA E6, MB 228.51, CES 20086, DFS 93K222, and other OEM specifications. The oils are "specially formulated for compatibility with exhaust after-treatment systems using diesel particulate filters (DPF), diesel oxidation catalysts (DOC) and/or selective catalytic reduction (SCR)."