By Amy Materson
EDITOR'S PICK
SIZEABLE SKID STEER
Gehl is touting the vertical lift V400 skid-steer loader – also launched as the 4000V under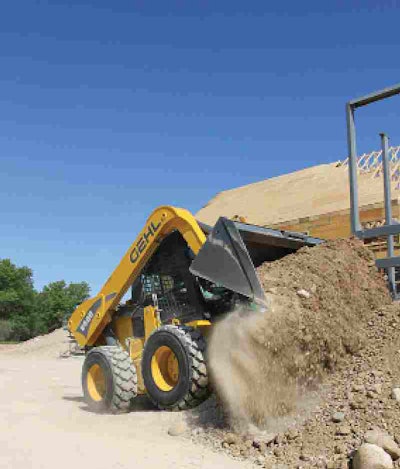 the Mustang brand – as the largest skid steer in the world. With a 4,000-pound rated operating capacity, a 9,150-pound breakout force and a 144-inch true vertical lift height, the V400 loads high trailers and trucks. The 99-horsepower Cummins diesel engine provides 326 foot-pounds of torque, and the V400's hydraulic system features an optional high flow of up to 40.8 gpm. The hydraulic fan with swing-out cooler improves accessibility for maintenance while reducing noise and fuel consumption. Hydraglide ride control enables the lift arm to float during load transport, resulting in improved operator comfort while minimizing material loss. A new cab has a ROPS/FOPS cab forward design for a better view of the bucket, and a side folding restraint bar has adjustable armrests. An optional pressured cab is also available, offering sound reduction material and a rear mounted air filter that provides a clean, quiet operating environment.
Visit EquipmentWorld.com/info
QUICK CLEANUP
Compared to manual carbon arc gouging, the the Arcair-Matic N7500 automatic gouging
system can boost productivity up to five times, and reduce cleanup times up to 10 times, says the company. The N7500 gouges with 0.025-inch accuracy with carbons up to 3/4-inch diameter at 1,600 amps at 100 percent duty cycle. Features include an extended front end that provides users with a clear view of the seam, a digital pendant that has a pre-set parameter menu and no-current detect and low voltage functions that shut down the system automatically.
Visit EquipmentWorld.com/info
CHOICE OF MODELS
Fontaine's 36-inch deck height Infinity dropdeck trailer is now available in three low deck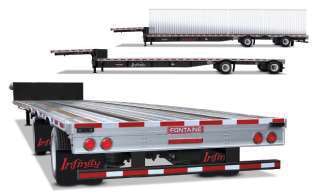 height models – 48-foot spread axle, 54-foot rear axle slide and 53-foot rear axle slide with twist locks. The Infinity line is constructed with fabricated steel mainbeams and steel crossbracing with aluminum siderails, floor and rear skirt, providing durability. The mainbeams are composed of grade 130 flanges and welded continuously on both sides. The trailers also feature Fontaine's RASR siderail, which is virtually indestructible.
Visit EquipmentWorld.com/info
COMFORTABLE FIT
Miller Electric's LPR-100 half mask respirator fits under most welding helmets and filters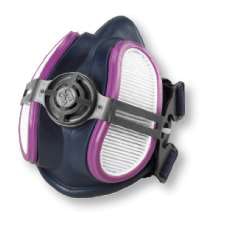 out 99.97 percent of airborne particles and oil aerosols. The mask, which has an Assigned Protection Factor of 10, has a four-point head strap adjustment to enable the user to customize the mask to their head shape and size. The mask has extended filter life, and features a large non-return exhaust valve to reduce heat buildup. Composed of medical grade material, the mask is odor, latex and silicone free.
Visit EquipmentWorld.com/info
PERFORMANCE BOOST
Bobcat has improved its 700 and 800 series loaders, incorporating a range of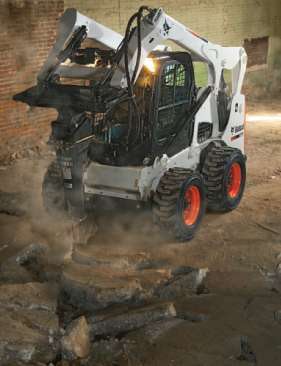 enhancements that affect machine performance for the S750, S770 and S850 skid-steers, the A770 all-wheel steer loader and the T750, T770 and T870 compact track loaders. Now equipped with Tier 4 Interim engines, the loaders have faster engine rpm recovery, shorter cycle times and improved breakout and lift force. Horsepower management is now based on engine torque instead of engine rpm, minimizing engine stalling, and a new hydraulic control valve enables the operator to use the tilt function regardless of auxiliary system pressure. Options include an auto-idle function, and a deluxe instrument panel.
Visit EquipmentWorld.com/info
EASY TILT BLADE
Move large amounts of material quickly with the skid-steer mount Bradco Dozer Blade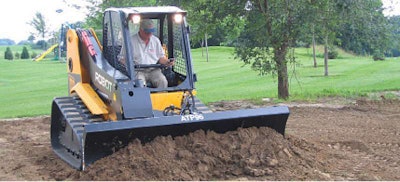 from Paladin Attachments, which is available in 84- and 96-inch widths. The blade has a 30-degree right or left of center angle and a 10-degree horizontal tilt, both of which are hydraulically controlled with one valve. A reversible .75- by 8-inch bolt-on cutting edge and formed .31-inch-thick by 28-inch-high moldboard handles backfilling, leveling, piling and grading applications.
Visit EquipmentWorld.com/info
CONVENIENT COMPACTORS
Restore trenches quickly with Doosan's plate compactors, which have a flat top mount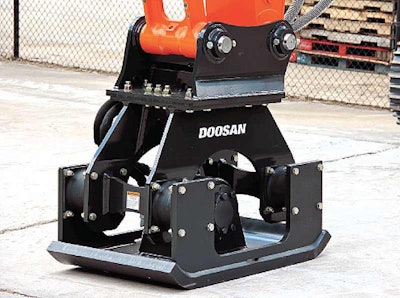 design for attachment to different carriers via a machine-specific cap. The PCX64, for use with DX140LC excavator, has a 23-inch baseplate width with 6,400 pounds of force and 2,000-vpm compaction frequency; the PCX114, for use with the DX140LC, DX180LC, DX190W, DX210W, DX225LC and DX255LC, has a 27-inch baseplate, 11,350 pounds of force and 2,000-vpm frequency; and the PCX220, for use with the DX255, DX300, DX350, DX420, DX480 and DX250, has a baseplate width of 32 inches, 2,100-vpm frequency and 22,000 pounds of dynamic force.
Visit EquipmentWorld.com/info
SINGLE LOADER ARM
Volvo's C-Series line now includes the MC70C skid-steer loader, a radial arm lift unit that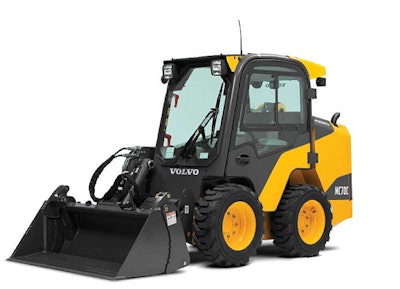 features a 1,550-pound rated operating capacity with a 3,100-pound tipping capacity. The single loader arm design offers improved visibility while effectively distributing the load. The MC70C has safe side access, with no need to climb over the attachment. Other new additions to the C-Series include the radial lift MC60C and vertical lift MC85C and MC95C skid steers and the MCT85C compact track loader.
Visit EquipmentWorld.com/info
SPEEDY DEMOLITION
Use fewer bites during demolition with Atlas Copco's BP 2050 and BP 3050 bulk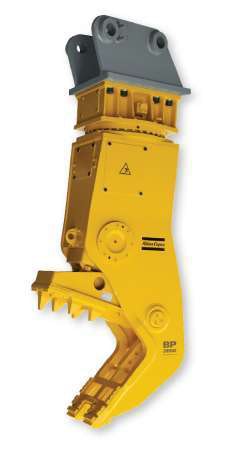 pulverizers, which generate high constant power at the jaw tips to cut down time on the job. The jaw also helps cleanly separate rebar and concrete, and simplifies feeding material. Both the tooth-plate and cutting blades are field-replaceable. The bulk pulverizers, which are available for 18- to 35-ton class carriers, can be equipped with a 360-degree hydraulic rotation device for ceiling and wall demolition.
Visit EquipmentWorld.com/info
BRUSH BUSTER
Clear small trees and brush with the Timberline Tree and Post Puller from Sidney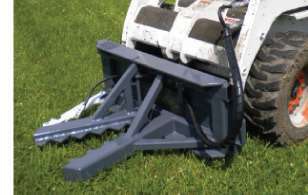 Manufacturing, which has a universal quick coupler to fit any skid steer. The puller has a serrated power jaw that opens to 10 inches, enabling the unit to handle a range of materials, and a 2- by 8-inch hydraulic cylinder rated for 3,000 psig. Hydraulic hoses are included, and an optional guard keeps branches away from the operator.
Visit EquipmentWorld.com/info
BOOST PAVING PRODUCTIVITY
Increase tons per hour paved with Bergkamp's Mobile Support Units, which provide M1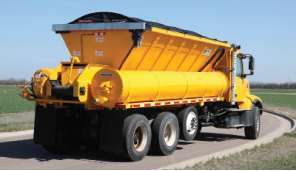 Series pavers with material while they work and are available in three sizes. The truck-mounted MS11 has an 11-cubic-yard level struck load aggregate capacity with a 530-gallon asphalt emulsion and water capacity; the truck-mounted MS13 holds 13 cubic yards of aggregate and 560 gallons of asphalt emulsion and water; and the trailer-mounted MS21 holds 21 cubic yards of aggregate and 1,000 gallons of asphalt emulsion and water. The Mobile Support Units can also be used as traditional material handlers.
Visit EquipmentWorld.com/info