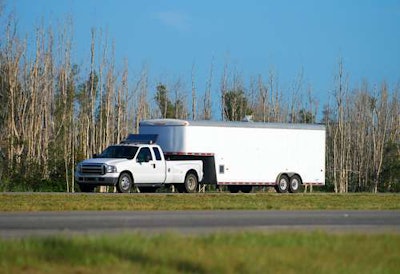 During the second day of the 2012 Construction Symposium in Dallas, General Motors trailering engineer Robert Krouse delivered a presentation on the process behind tow ratings and discussed the new SAE standardized ratings.
Krouse started by defining trailering as a spec number that is calculated through a truck's torque, horsepower, cab-to-axle distance, brake rotor size, payload, etc. It also includes Trailer Weight Rating and the vehicles stopping distance, acceleration, etc.
To caluculate a tow rating, Krouse said manufacturers put vehicles through rigorous testing on the powertrain, thermal, dynamics and structure. He said in the past 20 years, trucks have seen "a huge increase in capability."
For instance, a half-ton GM pickup in the late 1990s had an average rating of 7,500 pounds. In 2012, that rating has increased to 10,700 pounds. A one-ton Dually in the late 1990s was rated at 10,000 pounds. In 2012 that number has nearly doubled to 18,000 pounds. Finally, a one-ton Dually Gooseneck that was rated at 13,000 pounds is now rated at 22,800 pounds.
Of trailer weight rating, Krouse said that depends on what you carry as well as what you can pull. There are several factors involved including front axle weight, rear axle weight, gross vehicle weight, kingpin weight, tongue weight and trailer weight.
Krouse also discussed the importance of the industry standardization of two ratings through SAE that will take effect on 2013 models. This makes it easier to compare the tow ratings of various manufacturers since they will calculate tow ratings with the same, standardized testing. He outlined the elements of this testing:
Specific test trailers and setup
Structural requirements
Launch, acceleration and highway gradeability (including thermal performance)
Understeer and sway damping
Stopping distance and park brake hold
Vehicle weight considerations
To ensure a safe tow, Krouse advised operators to do the following:
Heed the ratings (overloading in one area can be disastrous)
Maintenance both truck and trailer
Perform a proper setup
Safe driving style (don't be in a hurry)
Use the proper equipment