Compact Excavators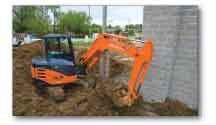 BRIDGE GAP
The Hitachi ZX60USB-3, with a swing boom and backfill blade, bridges the gap between Hitachi's compact and mid-sized excavators.
• Uses a D-section frame skirt to increase the rigidity of the upper structure frame
• A 20-inch variable speed fan reduces the excavator's noise level and fuel consumption
• Independent swing boom moves 80 degrees to the left and 60 degrees to the right.
Visit EquipmentWorld.com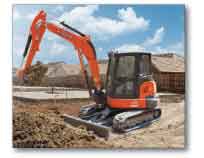 DIGITAL DISPLAY
Kubota's U55, its largest model in the U-Series of compact excavators, features a medium-length arm, wide doorway and efficient operator space.
• Uses a 47.6-gross-horsepower direct-injection Kubota diesel engine
• Has 2.5 inches of tail swing overhang
• Features a new digital display panel that provides information at a glance.
Visit EquipmentWorld.com/info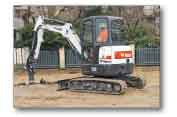 Working with a breaker
How much breaker is too much?
First, make sure the excavator's auxiliary flow being used is within an acceptable range for the breaker attachment being used. These should always match up. You don't want to over-speed or under-speed the attachment. Also, pay attention to the weight of the breaker. Do not exceed the rated operating capacities for attachments.
What are some maintenance tips?
It is critical to use a machine with the appropriate hydraulic flow. You can complete all of the daily greasing and preventive checks, but if you aren't matching the flow to the breaker, it will not matter. Also, match the breaker attachment to the job being completed. The bigger the machine needed, the more likely you will need a bigger breaker to match it up with. Last, adhere to the manufacturer's recommendations for the operation of the compact excavator with attachments, as well as guidelines for daily greasing and maintenance.
Source: Tom Connor, Bobcat excavator product specialist
For more products, visit our digital issue at www.EquipmentWorldDigital.com.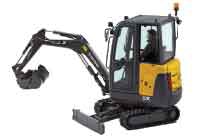 FINGERTIP CONTROL
Volvo Construction Equipment's EC20C compact excavator features an electro-proportional fingertip control on the joystick to direct swing and offset movement at the same time.
• Powered by a Tier-4, 16.2-horsepower diesel engine
• Has a maximum dig depth of 8 feet 4 inches
• Travel speed automatically shifts from high to low according to the working load.
Visit EquipmentWorld.com/info
AUTO SPEED
The Gehl 383Z 3-metric-ton model weighs 7,826 pounds with a canopy and features zero-tail-swing maneuverability.
• Uses a 29-horsepower Yanmar diesel engine on the side of the machine
• Cab tilts to the side for access to service points for hydraulics, rotary transmission control block and the air-conditioning unit
• Auto-2-Speed drive motor load-sensing system automatically shifts between low and high range.
Visit EquipmentWorld.com/info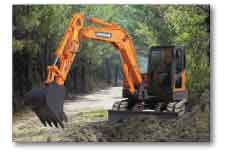 PISTON PUMP
The Doosan DX80R 8.3-metric-ton compact excavator has an operating weight of 18,364 pounds with standard boom, arm and 0.366-cubic yard bucket.
• Powered by a 54.6-horsepower engine
• Has an 11-inch tail swing over the side
• Hydraulic system features a single variable displacement axial piston pump with a maximum flow of 38 gallons per minute.
Visit EquipmentWorld.com/info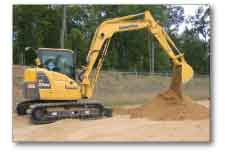 SEND INFORMATION
The Komatsu PC88MR-8 hydraulic excavator has a maximum digging depth of 15 feet 2 inches, with a maximum reach of 23 feet 5 inches.
• Uses a Tier-4, 65-horsepower Komatsu engine
• Has an operating weight of 18,558 pounds
• Komtrax technology sends machine operating information to a secure website using wireless technology.
Visit EquipmentWorld.com/info