Demolition attachments
By Lauren Heartsill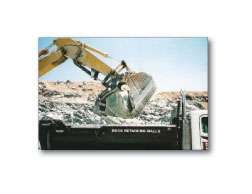 POWER HANDLER
Maximize excavator efficiency with Amulet's G2 PowerClamp progressive-link hydraulic thumb, which can support beams or remove unwieldy materials, debris and rip-rap.
• Designed for excavators from 30,000 to 100,000 pounds
• Made for use with a quick coupler
• Reaches an average of 180 degrees of thumb rotation.
Visit EquipmentWorld.com/info
DURABLE RECYCLER
PSM's demolition bucket sorts recyclable materials in severe conditions, offering minimum trash removal costs and dump fees.
• Replaceable cast wear components protect T-1 structure bucket
• Constructed with high tensile, low-carbon steel
• One piece replaceable outer wear plate with abrasive resistant wear
strips forms triple bottom protection.
Visit EquipmentWorld.com/info

STRONGER BUT LIGHTER
Genesis Attachments expanded its Demolition Recycler Series to use a more powerful, lighter-weight tool on a standard or high-reach machine.
• Has a crushing force of 85 to 148 tons
• Uses a regeneration valve and a large-bore cylinder
• Available in shearing, concrete cracking or concrete pulverizing configurations.
Visit EquipmentWorld.com/info

STREET TOUGH
The Hy-Ram HR Series from Allied Construction Products uses its tougher temperament to demolish concrete structures, trench rock, building foundations, pavement and bridge decks.
• Oil and gas operation increases efficiency
• Longer piston stroke provides higher impact power
• Auto-stop system prevents blank firing.
Visit EquipmentWorld.com/info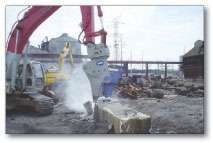 DOUBLE CRUSHER
Okada America's Cut Series doubles as a primary concrete crusher, capable of demolition and structural steel processing at the same time.
• Offered in four sizes for carriers from 6.5 to 50 tons
• Hydraulic speed valve offers faster speeds and increased productivity
• 360-degree hydraulic rotation gives easy access to demolition work.
Visit EquipmentWorld.com/info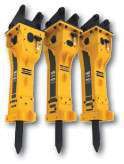 ADDED PROTECTION
Atlas Copco's HB heavy hydraulic breaker line offers features to protect against costly mistakes, such as improper set up.
• Power Adapt system shuts down the hydraulic breaker when oil pressure exceeds the max
• Improved box system for better stability and resistance
• Dual retaining bar gives better protection against wear and tear.
Visit EquipmentWorld.com/info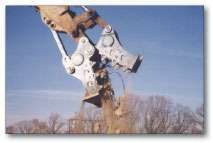 NO EXTRAS NEEDED
The Lemac Concrete Crusher requires no extra hydraulics to crush concrete or to remove and cut rebar.
• Includes replaceable teeth and rebar cutters for easy and affordable maintenance
• Attaches in the same place as previously mounted bucket
• Main pivot features heat-treated pin, bearings, seals and o-rings.
Visit EquipmentWorld.com/info
MIDSIZE BUT MIGHTY
The Bobcat HB880 hydraulic breaker offers a powerful performance in a midsize package.
• Provides 1,310 blows per minute at a hydraulic rate of 17.2 gallons per minute
• Automatic pressure regulator ensures maximum performance
• Matches hydraulic capacity of the carrier to the breaker.
Visit EquipmentWorld.com/info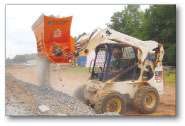 ONSITE RECYCLER
The EZ Grout Hog Crusher recycles materials such as brick, stone, asphalt and stone on the jobsite.
• Easily attaches to any skid steer loader or forklift
• Replaceable carbide bullets, hardened breaker/cleaner and check plates
• Recycles up to 10 tons per hour.
Visit EquipmentWorld.com/info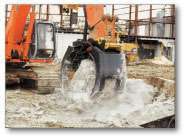 INTERCHANGABLE SHARING
The Kenco Demolition Grapple, which interchanges with buckets and other attachments, can be shared by all excavator brands.
• Available for 20,000- to 140,000-pound machines
• Replaceable front and rear tine pads
• Manufactured from abrasive resistant alloy steels.
Visit EquipmentWorld.com/info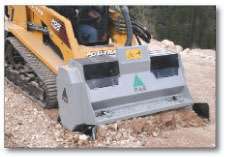 ROCK CRUSHER
FAE's STC/SSL rock crusher attachment is designed for high-flow hydraulic skid steers.
• Crush and grind up to 6-inch diameter rock, stone and asphalt
• Double carbide teeth provide longer wear
• Attachment has a working width of 63 inches.
Visit EquipmentWorld.com/info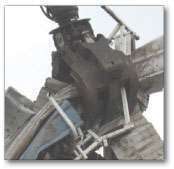 COST SAVER
Rotobec's Power Attachments offer versatility in various material-handling applications, such as demolition.
• Positioned or dangle rotations minimize the excavator's movement
• Rotations reduce fuel consumption and maintenance costs
• Attachments use multiple jaw configurations.
Visit EquipmentWorld.com/info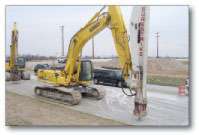 QUIET POWER
Surestrike hammers efficiently demolish heavy concrete.
• Concrete is quietly broken with up to 75,000 foot pounds of single blow impact energy
• Will mount to any excavator or loader
• Have high production rates.
Visit EquipmentWorld.com/info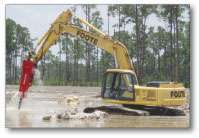 GOOD VIBRATIONS
Construction Attachments' CAL16000 hammer's fully cushioned vibration damping system on the upper/lower power cell reduces friction on wear pads and protects from vibration damage.
• Fully cushioned vibration damping system on upper/lower power reduces pad friction
• Internal control valve system provides 10 to 15 percent more efficiency than other breaker valves, says the company
• Redesigned case ensures snug main body fit.
Visit EquipmentWorld.com/info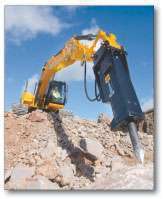 READY-TO-USE
The JCB Hammermasters are supplied ready-to-use, with hoses, moil and chisel, and many can be fitted to other manufacturer's machines as well.
• Features an auto-stop function to ensure idle blows do not damage the breaker
• Housing incorporates a heavy-duty claw
• Autogrease system is fitted to the breaker housing.
Visit EquipmentWorld.com/info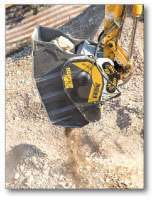 EFFICIENT CRUSHER
Perform crushing applications in tight spaces or hilly areas with MB's excavator-mounted crusher buckets.
• Buckets are efficient to transport and install
• Recycles onsite materials, reducing disposal trips
• Produces fill material for a range of jobs.
Visit EquipmentWorld.com/info