A four-part inspection will give you the information you need before you spend your hard-earned money on a particular machine.
By Marcia Gruver
"Keep in mind that an appraisal is nothing but an opinion," says Paul Hendrix, IronPlanet equipment pricing analyst. "The value of the machine is determined by what's there and what condition it's in. But everyone's going to see things a bit differently."
Hendrix, who has more than 20 years of experience buying and selling used equipment, took us to Thompson Tractor's Montgomery, Alabama, facility to inspect a Caterpillar 420E with 3,521 hours.
Hendrix breaks down his backhoe inspection into four major areas:
• Mechanical (engine, transmission and hydraulics)
• Structural (looking for cracks, welds, plates and dents in critical areas such as frames, booms and buckets)
• Cosmetic (sheet metal, paint, corrosion, interior condition and glass)
• Tires.
First things first
Before you start inspecting the backhoe, locate and write down the serial number to verify the model year, either by calling the manufacturer or referring to a serial number guide. Most, but not all, manufacturers have gone to 17-character system where the 10th character from the left denotes the year model.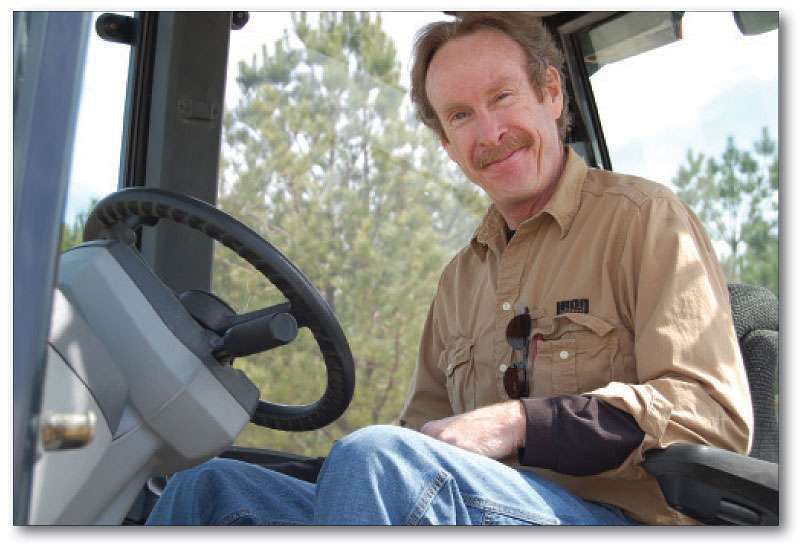 Then begin your walk around, noting general machine features such as type of loader bucket, type of backhoe bucket, whether it's a two- or four-wheel drive machine, ROPs canopy or enclosed cab. Our inspection machine has general purpose buckets on both ends, four-wheel drive, an enclosed cab, air conditioning and a standard stick. This information will give you the basics when you search for comparable machines sold recently, essential in appraising the machine.
Bring along your camera to record any notable areas of the machine. Get all the information you can on the machine's previous applications, any recent repairs or rebuilds, and if any maintenance records are available. "You have to be a bit of a detective," Hendrix says.
For instance, if the backhoe comes with a ditch cleaning bucket, it's likely the bucket spent a lot of time in water, so pay close attention to the bucket pins and bushings since there's a chance they experienced higher-than-normal wear.
Structural inspection
We started on the loader end with our walk-around. There, take a good look at the torque tube that connects the two loader arms. Since this part is subject to a lot of twisting action, check it for stress marks and cracks. Look for welds and plating, which indicate a crack repair. Cracks can also appear where the loader arms connect to the bucket.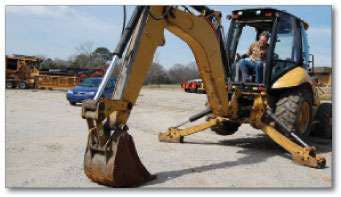 If you can, place the machine on a concrete pad and check that the loader bucket sits level on the ground. If it is sitting at an odd angle, there could be twisting in the loader arms. (But make sure the tire pressure on both front tires is correct, since uneven tire pressure can also give this effect.) Examine the loader bucket's cutting edge and corners, looking for excessive wear. If the bucket has to be replaced, it could cost you in the $3,000 to $6,000 range.
On the backhoe end, examine the boom, stick and bucket, again looking for cracks, welds and plates. Although scratches and dings are to be expected, any damage that actually changes the shape of the boom or stick – such as a puncture – needs serious assessment.
Check all hydraulic cylinders for leaks. If leaks are found, inspect the rod surfaces for pitting or damage. If the machine has an extra hydraulic circuit, it opens up the possibility it may have been used with a hammer, which can create a lot of structural stress.
Although manufacturers have done a good job of recessing grease fittings, check to see that none of them have been knocked off. Make sure that every place that can be greased has some grease on it. Note the previous owner's greasing habits, or as Hendrix puts it, if the machine is "dirty in all the right places. I don't see excessive grease as a bad thing."
And check out the ROPS, looking for signs of repair. If this structure has been compromised in any way, it may not protect you or your operator in a roll-over situation.
Mechanical
Next, check out the machine's mechanics. Always check the oil and water first, and be sure the engine is cold if at all possible. (Diesel engines that are hard to start when cold are often an indication of internal wear.) Look for oil in the water and water in the oil, plus major leaks or smoke. Check to see if oil sample records are available. Look at the filters. "I check to see whether they are OEM filters – not that aftermarket filters are bad, it's just an indication that the previous owner preferred factory filters," Hendrix says. Ask if the machine was on a service contract.
Check the sight glass to see if the hydraulic oil level is adequate. Don't run the machine if it is low. Check hydraulic oil levels cold with all work equipment on the ground.
Get into the cab and turn on the machine. Test the brakes to make sure they will stop the machine. Then check that the machine will go in all gears both forward and reverse and that there are no unusual noises. If there's room, this can be done while driving around the yard, or by lifting the front and rear wheels off the ground and testing in place.
Operate the hydraulics and listen for unusual noises. Then put the loader arms up in the air and shut the machine off. Observe for a few minutes to see if the boom drifts downward, which is a sign of internal bypass in the cylinders.
Move the seat into the backhoe position and make sure all the levers or joysticks work properly. Cycle through all the boom, arm and bucket functions repeatedly. Extend the backhoe out to its maximum reach and swing it back and forth. If you feel slack in the boom, the pins and bushings may be loose and need repair. Also look down the plane of the boom and stick, looking for excessive lateral movement.
Apply both up and down pressure and forward and backward pressure, looking for excessive movement when checking the boom, stick and bucket pins and when checking swing tower pins. If there's excessive wear in the swing tower pins, line boring may be necessary, which could cost you $1,500 to $6,000 depending on the machine size.
"Once pins in this area reach a certain wear point, they start to bang every time you put the machine in motion," Hendrix says.
Although our machine had pilot backhoe controls, many backhoes have mechanical controls. If your inspection machine has mechanical controls, use this cycling time to note any excessive wear in the mechanical linkages, such as the control levers wobbling.
And while you're in the seat, test out the horn and backup alarm and make sure the air conditioning works properly.
Cosmetics
Everyone will carry into a machine inspection their individual viewpoint on cosmetics. Some require a near-perfect looking machine, others don't care as long as the performance items check out. Know what's important to you before you start inspecting.
Check the condition of all sheet metal, paint, steps, composite plastic fenders and hoods. On our inspection machine, Hendrix investigated an area on the hood that was bubbled and peeling. Wondering if it indicated a previous overheating problem, he looked under the hood, but didn't find any evidence. "It's something I'd definitely question the previous owner about," he says.
One cosmetic problem Hendrix is especially wary of is corrosion. A machine that's perhaps been used in a salt or chemical environment, such as around coal dust or cement, can show corrosion problems. "It seems like you can never fix serious corrosion," he says. "You can sandblast it, paint it, and two weeks later it will start bleeding rust." And corrosion runs deeper than cosmetics, getting into engine components and wiring. "It's just a recipe for disaster. I'd move on."
Check the seals around door frames since they tend to trap moisture. Inspect the glass all the way around the cab, noting any cracks or missing panes. Our inspection machine, for example, had a poor glass replacement job on one side.
Get into the cab, and note the general condition of the seat and seat belt, moving the seat into all possible positions to determine ease of movement. Make sure all gauges and controls are operational.
Tires
Inspect all four tires thoroughly, noting any size mismatches. Check the rims for cracks – which can cause problems when you go to replace a tire – and make sure there are no loose lug nuts, which will eventually create an egg-shaped lug nut hole. Check the tread depth with a tread depth gauge.
"You've got to physically inspect all four tires," Hendrix says. "You can't assume that because one tire is one way, the other three are that way too."
Look for sidewall cuts, which will also require you to go under the machine to check for these cuts on the inside of each tire.
And know what you've got. Sometimes you'll run across foam-filled tires, which cost extra to remove since they have to be cut off. A simple air valve check will clue you in to whether you've got a pneumatic tire or not.
Determining a fair price
Research the prices comparable machines with the same general features have gotten on both the auction and retail markets. "It's good to talk to a lot of different people from all the market segments, don't just talk to another contractor or a dealer or an auction house, but poll the entire spectrum," Hendrix says. "Even if you're just buying two to three machines a year, poll your sources." Another tip: get to know a dealer's mechanic, and get their opinion.
Then deduct the estimated cost of any items you've noted that need repair to get it up to your standards. Most problems are fixable, but the price of the fix may put a particular machine out of your comfort zone.
Since backhoes tend to be entry-level machines, they can come in all conditions. "This is income producing property," Hendrix says. "It really behooves you to spend the time to research it." EW
Editor's note: This article is intended as a checklist of considerations when buying a used backhoe, not as an all-inclusive used equipment buying guide.
Backhoe inspection checklist
General
Make/model:
Year of manufacture:
Engine type:
Serial number:
Hour meter:
Features/options:
Loader bucket yardage:
Backhoe bucket yardage:
Attachments:
Structural
Backhoe boom, arm and bucket condition:
Loader end, arm and bucket condition:
Hydraulic cylinders condition:
Hydraulic lines, hoses and
fittings condition:
Frame cracks?
Non-manufacturer welds and plates?
Any required repairs?
Tires
Left front, size/make:
Tread/condition:
Right front, size/make:
Tread/condition:
Left rear, size/make:
Tread/condition:
Right rear, size/make:
Tread/condition:
Any required repairs?
Operational checklist
Engine oil level/condition:
Oil leaks?
Coolant leaks?
Hydraulic oil condition?
Backup alarm operational?
Horn operational?
Gauges in place and working?
Seat belt working?
Air conditioning working?
Any required repairs?
Pins and bushings inspection
Inspect pins and bushings for damage and misalignment, and note condition
Backhoe pins:
Swing tower pins:
Loader pins:
Any required repairs?
Cosmetics
Overall appearance:
Cab condition:
Glass condition:
Lights:
Any required repairs?
Comments from previous owner or seller
Any recent repairs or rebuilds?
Applications used in?
Are maintenance records available?