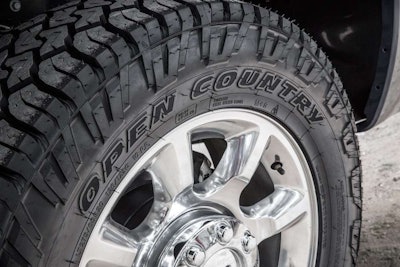 Toyo's newest commercial grade tire for half- to 1-ton pickups combines rugged construction with a comfortable highway ride.
The new Open Country C/T is an on-/off-road tire with all-terrain commercial durability and a Three-Peak Mountain snowflake for use in severe snow conditions.
With a three-ply construction, a tread design with dual-angle shoulder blocks and all-weather traction, the tire is designed for year-round use on the jobsite. The tire's composition resists cutting, chipping and stone drilling and is flexible in lower temperatures, Toyo says, delivering long life in use across gravel, mud and snow. The Open Country C/T's tread design also accepts TSMI #15 studs for extra ice traction.
And despite all of this ruggedized construction and aggressive tread design, Toyo says this tire provides a quiet ride on the highway, making it an ideal choice for any pickup used on both the jobsite and on the weekends when hauling a boat or trailer.
Toyo says the Open Country C/T size line-up includes 16 popular OE replacement and flotation sizes ranging from 16- to 20-inches in wheel diameter and load ranges D and E.