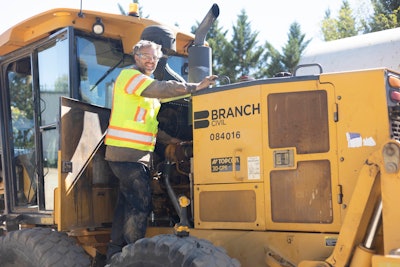 Hunter Collins/Branch Civil
Robert Kesselring got his start solving mechanical problems on his 1988 Chevy Cavalier when he was in high school.
"When I got my first car, I couldn't really afford to have anybody else fix whatever went wrong with it," recalls the 43-year-old technician for Branch Civil in Roanoke, Virginia. "So I had to figure it out myself.
"Over the course of time, I just acquired the experience and the tools necessary to fix my own things that were broken."
The experience helped launch his career as a technician, where he has earned a reputation for being able to solve the most complicated problems and going anywhere at anytime to fix broken down equipment. His expertise, professionalism, willingness to keep learning, and leadership have resulted in his being named the 2022 Technician of the Year by the Association of Equipment Management Professionals.
It's a career he enjoys, no matter what he's working on.
"I fix machines," he says. "… That's what I've always done."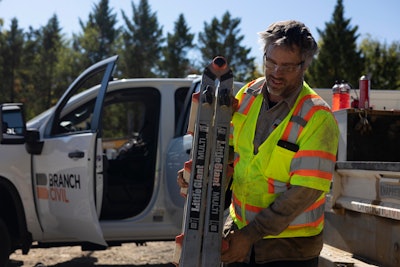 After high school, Kesselring planned to be an engineer and spent two years in college headed toward a degree. But marriage and a new baby daughter led him to plan B. While working full time, he went to night school to earn an associate's degree in automotive technology at Trident Technical College in Charleston, South Carolina.
He decided to see how far his technical skills could take him.
"So far," he says, "it hasn't let up."
He spent 14 years as a technician at a GM dealership. He later worked at a Komatsu dealership. Then two years ago, he landed a position as a technician at Branch Civil in Roanoke, Virginia.
"From a day-to-day basis, I work on anything from a million-dollar crane down to an average pickup truck," he says, "just whatever is broken that particular day."
The position often involves travel to Branch Civil's various jobsites in Virginia, and his supervisor, Chris Caldwell, knows Kesselring is always up for the challenge. He recalls one trip he sent Kesselring on to fix a dozer that had broken down. It had an electrical problem with its GPS machine control that no one could figure out.
When Kesselring arrived, he pulled out the dozer's wiring and took it back to his hotel room. He spent the night tracing every wire until he found the break. Having fixed the break, he returned to the jobsite early the next morning.
"The job was able to use machine the next day," Caldwell says. "So he saved us a rental and kept the project operating."
Some of his colleagues call him a "mad scientist" because he sometimes uses unconventional ways of solving problems.
But they also know there's "method to his madness," as co-worker Devere Owens can attest.
"He'll work through breaks; he'll skip his lunch," Owens says. "He's dedicated, keeping his cool more than anything. This job can get frustrating when you can't find a solution. …
"He figures it out."
He has a high degree of technical ability and can write code when needed and can often be seen using a laptop and consulting schematics to diagnose issues.
"He excels in diagnostics and electrical problem-solving," says Branch Civil shop foreman Keith Boley. "Robert is the type of person who will jump in anywhere in our company on any job, traveling hours if we need him to go to one of our jobs to diagnose an issue. Robert has no problem with it. And he is very good at what he does."
Kesselring says he likes that he can be at a different location each day, sometimes as far at 7 hours away, and enjoys the variety of his work.
"I travel everywhere that Branch works, basically anywhere there's a machine down," he says.
"I could be in a different place every day."
Though that variety and challenge of working on different equipment might be difficult for some, Kesselring thrives on it. He is continuously challenging himself to learn more and to tackle new problems. He has earned numerous certifications, including master GM technician, as well as dealership and Automotive Service Excellence certifications.
"The biggest thing that I've learned is not to get intimidated by something that I've never seen before," he says. "When I first came from doing automotive work to heavy equipment, I literally did not know where to find the engine in an excavator. And that wasn't that long ago.
"But when you walk up to a machine, and you can look around, look at the different things, look at the manuals, figure out what's wrong with it even though you've never seen anything like it before and then successfully fix it, that's kind of a confidence booster."
After fixing so many pieces of equipment with no prior knowledge of it, he looks forward to the challenges of his job.
"After starting from scratch and figuring it out enough times, it gets to the point where you're no longer afraid to walk up to something new, and it's more of a fun puzzle," he says.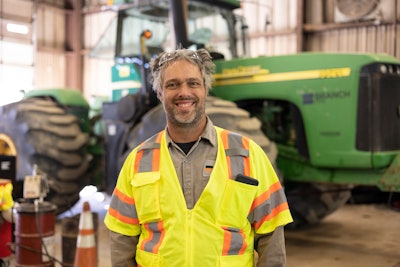 Kesselring offers this advice for young people starting a career as a technician:
"If you get stuck on something, treat it as a learning opportunity."
He notes, too, that there are many resources available for technicians. He will even go to Google and YouTube for ideas.
"You can usually do enough research to figure out what's going on," he says. "It might take you some time to figure out what's wrong with this machine. But everything you learn will help you learn faster on the next new thing you come across."
He says he looks forward to continuing that learning process for years to come, and he loves how his career offers him those opportunities.
"I can do this for another 20 to 30 years, and on the last day of my career, I'll still meet something new," he says.
"That's just the job."