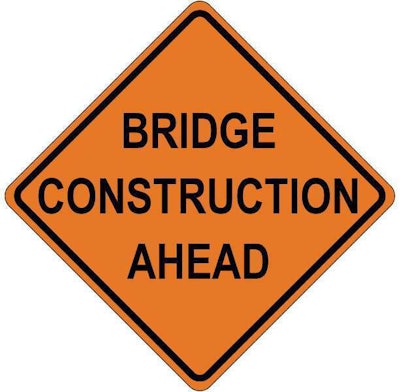 The U.S. Department of Transportation announced 20 bridge projects that will be the first recipients of a portion of $225 million in Competitive Highway Bridge Program grants to fund bridge improvement and replacement in rural areas, Transport Topics reports.
"This $225 million in federal funding will enable 18 states to make vital upgrades to select bridges in rural areas," said Transportation Secretary Elaine Chao in a DOT press release.
The press release notes that the funds must be used for highway bridge projects on public roads and at least two projects must be "bundled" into a single contract to allow participants to address several projects with similar needs to save time and money. Only 25 states qualified for the grants, because they had to have population densities of fewer than 100 people per square mile based on Census Bureau data.
The Iowa Department of Transportation received $33.4 million, the largest individual grant, to improve up to 77 bridges in poor or fair condition, which will benefit farm-to-market routes across the state. The Maine DOT received two grants, one for $18.9 million to improve four bridges on Interstate 295 between Portland and Augusta, and one for $6.1 million to aid three bridges in Franklin County. The Missouri DOT received $20.8 million for its Fixing Access to Rural Missouri (FARM) Bridge Program to improve 41 bridges using such building methods as accelerated bridge construction. The Colorado DOT received $12.5 million to repair 14 bridges.
"The projects funded under the program will serve as models for similar bridge improvement projects throughout the nation," said Federal Highway Administrator Nicole Nason, according to the news agency. "They are examples of how to achieve time and cost savings through innovation."
A complete list of projects is available here.