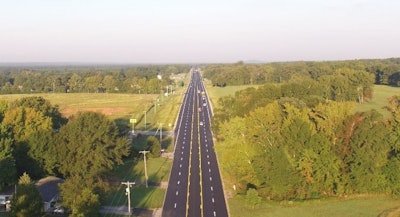 Rogers Group Inc. announced that the National Asphalt Pavement Association (NAPA) recognized two of its construction operations in central Arkansas for excellence in construction. The two crews received 2018 Quality in Construction Awards for work on Highway 5 in El Paso and Highways 64 and 67B in Beebe.
Highway 5 project challenges included variable land widths through business areas and congested traffic that required the company to mill and pave the road at night, but the crew produced a smooth asphalt pavement on time and under budget.
The mill and fill project on Highways 64 and 67B restored a section of a major east-west route in central Arkansas. The crew worked at night to avoid traffic congestion during school hours, thereby producing a smooth asphalt pavement with minimal disruption to the traveling public.