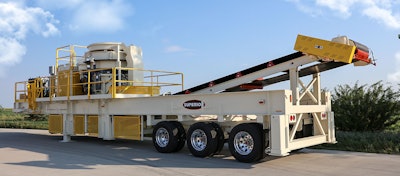 Power Equipment and Superior Industries are expanding their partnership, with the dealership adding Superior's crushing and washing equipment to its stores. Power Equipment already the company's conveyor components.
Power Equipment, in business since 1936 and based in Denver, Colorado, will offer the new equipment in Colorado, New Mexico and southern Wyoming.
Superior reports the signature new product of the partnership will be the Patriot Cone Crusher, available in single and portable configurations.
"We believe Superior is offering high quality products to the aggregate industry but more importantly, high quality people," says Kevin Schuebel, vice president of Power Equipment's Aggregate Division. "As Superior has added crushing and washing equipment to their products offering, they have added highly qualified people to represent and support the products for the end users."