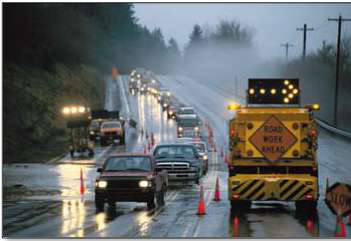 The Department of Labor (DOL) announced that in observance of National Highway Work Zone Awareness Week, April 3-7, 2017, the Federal Highway Administration (FHWA) and the Occupational Safety and Health Administration (OSHA) will partner with the state of Georgia, local government organizations and employers to sponsor one-hour Safety Stand-Down events to train road workers on the dangers of distracted drivers, flying debris and other objects.
The events encourage employers to voluntarily stop work for one hour from 7 to 8 a.m. on a designated day to review best safety practices and discuss the hazards of objects and vehicles striking workers.
"Our alliance partners have come together to honor the working mothers, fathers, sisters, brothers, daughters and sons who died because a driver risked a text message, a phone call or other distraction," said Kurt Petermeyer, OSHA's regional administrator for the Southeast, in a DOL press release. "The Safety Stand-Down events allow employers to identify hazards and how employees can avoid them. It also reminds the construction industry and the public at-large of the importance of safety in these work zones."
The Safety Stand-Down is being organized by the Georgia Struck-By Alliance, which includes OSHA; the Associated General Contractors of Georgia Inc.; 3M Scotchlite Reflective Material; the Georgia Department of Transportation; the Federal Highway Administration's Georgia Division; the Georgia Highway Contractors Association; the Georgia Utility Contractors Association, Inc.; the Georgia Tech Research Institute; Lamar Advertising; Georgia Power; Pike Corporation; Ansco & Associates LLC; Construction Education Foundation of Georgia; National Safety Council, Georgia Chapter; Comcast; Local Government Risk Management Services; and the Governor's Office of Highway Safety.
The informational flier and toolbox are available from the Associated General Contractors of Georgia in both English and Spanish. For more information, contact Christi Griffin in OSHA's Atlanta-West Area Office at (678) 903-7301; Bill Fulcher in the Atlanta-East Area Office at (770) 493-6644; or Margo Westmoreland in the Savannah Area Office at (912) 652-4393.