Case Construction Equipment has expanded its D Series lineup with two new crawler excavators.
The CX130D and CX160D join the five other D Series excavators that were unveiled in April. Case says beyond an increased number of standard features, these two new machines provide improved cycle times and an increase in fuel efficiency over their C Series predecessors. You can check out a walkaround video below.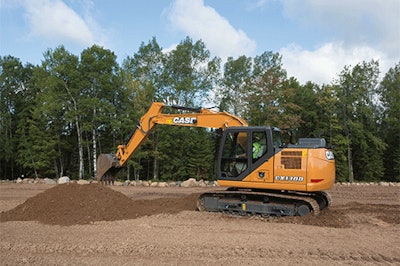 Both excavators are powered by a Tier 4 Final-compliant engine pushing 102 horsepower in the CX130D and 112 hp in the CX160D. The 29,131-pound CX130D has a bucket digging force between 20,233 and 21,357 ft.-lbs. while the 38,391-pound CX160D had a bucket digging force between 25,179 and 26,572 ft.-lbs.
The new engines provide an 8-percent increase in fuel efficiency over the C Series machines without impacting power and with minimal maintenance.
Case says the machines boast a 5-percent improvement in cycle times thanks to a new electronically controlled pump, a larger control valve and multiple sensors. These upgrades combine with Case's Intelligent Hydraulic System which is made up of four control systems that work to optimize hydraulic power on the fly.
The IHS is made up of four parts: Boom Economy Control (cuts RPMs via boom down and swing gravity); Auto Economy Control (cuts RPMs during idle and shuts the engine down from a present idle time; Swing Relief Control (cuts hydraulic power when starting swing); and Spool Stroke Control (changes hydraulic pressure when digging).
Plus, both machines re-use hydraulic fluid whenever possible, providing further increases to cycle times. And further efficiency gains are possible if the operator takes advantage of the machines' three working modes: Speed Priority, Heavy and Automatic.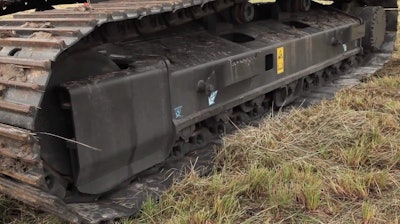 With these D Series excavators, Case says it has also improved the design of the arm and boom, making them stronger and more durable. The undercarriage was improved as well with a single-slope design that reduces dirt and mud accumulation, and is now stronger thanks to thicker steel.
A front dozer blade and an LED working light package are available options.
The cab of the CX130D and CX160D features a Bluetooth radio, adjustable operator station with a heated air-ride seat, standard rear view camera and a 7-inch widescreen display that displays real-time operation data including fuel consumption, operating hours and other machine information.
Other standard features operators are sure to love include Free Swing for craning, laying or lifting of offset loads; oil sample ports and a pattern selector for ISO or SAE controls.