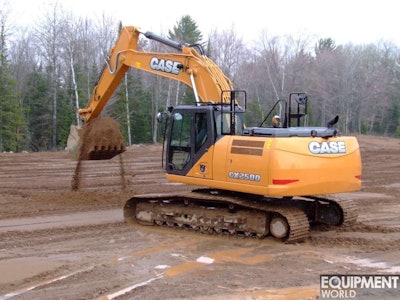 [imagebrowser id=244]
Case Construction Equipment demonstrated four of its new D-Series crawler excavators at its Tomahawk facility Tuesday through bouts of mid-April snow showers, highlighting the push of the new series for boosted operator productivity. The lineup meets Tier 4 Final emissions standards.
Five models make up the D series: the CX210D, CX250D, CX 250D LR, CX300D and CX350D, all of which offer up to 12 percent faster cycle times and up to a 14-percent improvement in fuel efficiency.
And while the Tomahawk event was going on, the CX300D made its first public appearance halfway across the world in Paris where attendees of the Intermat trade show took turns siting behind the new machine's controls.
The new lineup's faster cycle times come from an electronically controlled pump, a bigger control valve and multiple sensors; all combine with the company's Intelligent Hydraulic System (IHS). The IHS is made up of four parts: Boom Economy Control (cuts RPMs via boom down and swing gravity); Auto Economy Control (cuts RPMs during idle and shuts the engine down from a present idle time; Swing Relief Control (cuts hydraulic power when starting swing); and Spool Stroke Control (changes hydraulic pressure when digging).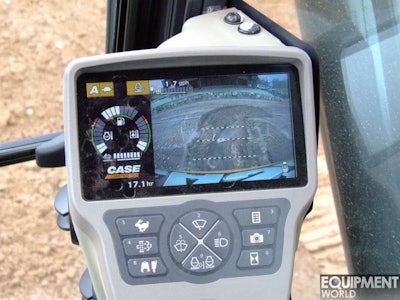 The three working modes of Speed Priority, Heavy, and Automatic draw just enough power needed for the task being performed.
"The D series is a true game changer for Case and the industry with significant increases in speed, power, control, and fuel efficiency," said Philippe Bisson, Case CE brand marketing manager. The entire D series lineup, he added, is designed to increase productivity and reduce operating costs.
"All manufacturers say that," he added, "but what do we really mean? The value proposition of the D-Series excavators is the ability to do more work while also reducing fuel use, and therefore, lowering the total cost of ownership. Of the four D series excavators introduced today, the cycle time has been improved by up to 12 percent over previous models.
"That allows equipment to work faster. And faster translates to the ability to improve productivity and get more work done. During our field tests a lot of the operators came out of the machines and said, 'wow, that's fast'. "
In using and testing the CX300D, I found the controls to be smooth and intuitive. At first I tried each of the two joysticks in separate movements, but within 10 minutes I could use them in tandem to smoothly dig and dump dirt with no discernible jerking, and surprisingly fast.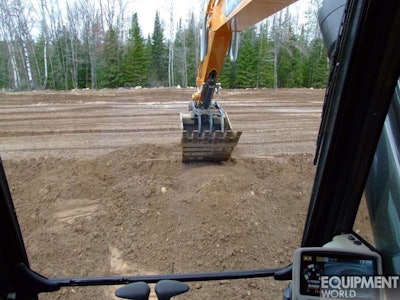 Bisson said during the research and development process Case engineers created a simple measure to equipment efficiency that used number of trucks that can be filled in a year.
"The CX300D was the undisputed champion, and matched with the right truck, the CX300D can fill up to 9,500 more trucks in a year," Bisson said. "That's something an equipment operator can understand—filling more trucks at a faster rate, equals greater profitability. It also helps lower the total cost of ownership of the machine. And you're generating more profit in the same period of time without adding additional machines, labor, or often, expensive transportation."
The D Series offers more standard features, Case says, than any of their previous excavators. These features include Free Swing for craning, laying or lifting of offset loads; oil sample ports, pattern selector for ISO or SAE controls, an adjustable operator station with a heated air-ride seat, Bluetooth radio, an rearview camera that feeds a 7-inch widescreen monitor. The series also is covered under Case ProCare.
Optional features include an LED working light package with two lights in the front, two in the rear, and one on each side.