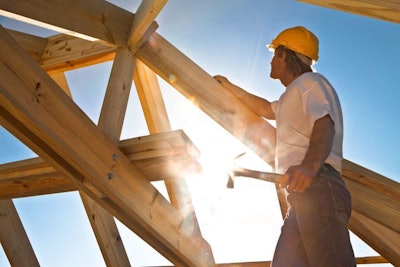 Despite a very rough February, home builders appear optimistic the worst 2015 has to offer is over as construction starts on new homes edged up in March.
U.S. home starts rose 2 percent in March to a seasonally-adjusted annual rate of 926,000, according to preliminary data from the Commerce Department. Despite the monthly boost, March starts are down 2.5 percent from the same time last year.
The report also revised February's figure to a rate of 908,000, slightly easing that drop off from the previously reported 17 percent, to 15 percent.
Accounting for March's gain in the face of another substantial drop in apartment starts, starts on single-family homes rose 4.4 percent to 618,000. That figure is 2.7 percent below the March 2014 stat.
Meanwhile, new apartment construction fell for a second straight month, down 7.1 percent to a rate of 287,000. Apartment starts are now 4.7 percent below the March 2014 rate.
Despite the year-over-year decreases, home builders have demonstrated their confidence in the market. The National Association of Home Builders/Wells Fargo builder sentiment index is up 4 points this month to a 57. Any reading above a 50 indicates most home builders believe market conditions are good. The index saw slight declines the two previous months but never left the 50s.
In a statement, NAHB Chairman Tom Woods said builders are confident in rising consumer interest in the market due to current low interest rates and continued job growth.
"The HMI component index measuring future sales expectations rose five points in April to its highest level of the year," added NAHB Chief Economist David Crowe. "This uptick shows builders are feeling optimistic that the housing market will continue to strengthen throughout 2015."