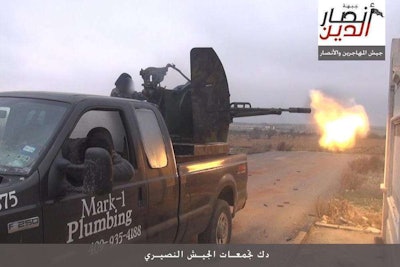 When Jeff Oberholtzer retired and traded in one of his plumbing company's Ford F-250s last year, he probably thought it was the last he'd see of the old pickup.
And now? Boy, does he wish things would have turned out that way.
According to a report fro KHOU, the phones have been ringing non-stop at Mark-1 Plumbing in Texas City after one of the company's trucks was seen in a photo posted by an Islamic militant group's Twitter feed. In the photo the truck appears to have been modified in order to support a large machine gun being fired. According to USA Today, the photo was posted by a Chechen group involved in the Syrian civil war named Jaish al-Muhajireen wal-Ansar.
Oberholtzer said he traded the truck in at a Ford dealership in nearby Houston in November 2013. A spokesman at the dealership told KHOU that the truck went to auction immediately and likely traded hands until it somehow ended up in Syria.
Obviously, Oberholtzer says he had no intention for the truck to aid a group with terrorist ties. Nonetheless, after the photo surfaced the company was forced to take its phone off the hook because it received so many phone calls, some of which were threatening.
"We have a secretary here. She's scared to death," he told KHOU. "We all have families. We don't want no problems."
It's definitely a cautionary tale to any company trading in old work trucks: Always remove your company name—and especially your phone number—from the side of any trucks you may be trading in.