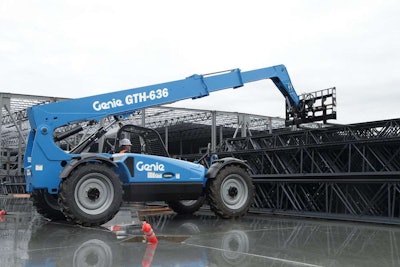 [imagebrowser id=144]
The industry practice was fairly straightforward when it came to 6,000-pound-maximum-lift-capacity telehandlers, says Chad Hislop, product management lead, Genie Industries. "We all would take a 8,000-pound machine, change out the lift cylinders and put a new decal on it," he says, which created a heftier machine than really required for a 6,000-pound unit.
Since 80 percent of telehandlers go into the rental market, this also meant rental companies had to buy a 6,000-pound machine at an 8,000-pound price, and "the rental equation was a little hard for 6,000-pound machines because of this," Hislop says.
With the advent of Tier 4 Final and the aftertreatment components required in the 75-to-175-horsepower size class, Genie took a serious look at whether this machine required a 100-horsepower engine. "We wanted to change the equation of the 6,000-pound category," Hislop says.
Looking to strip out weight, Genie optimized the sizing and chassis of the boom. "Weight was key," Hislop says, with the Genie design team aiming at keeping the operating weight below 18,000 pounds on pneumatic tires. "This allowed us to still use full size tires and get full size performance with a 74-horsepower engine," he says.
Staying below 75 horsepower also meant Genie stayed away from using a diesel particulate filter, a selective catalytic reduction system or diesel emission fluid. A diesel oxidation catalyst is the only aftertreatment. "This makes this engine much cheaper and more simple for our rental customers," Hislop says. (For more on machine features, view the video below.)
Rental needs
And price is still king with users, says one of these rental customers, Richard Keen, fleet manager of Star Rentals, Seattle. "If they can get a 6,000-pound a bit cheaper, than that's what they'll use because everyone's more cost conscious right now. One of the more interesting things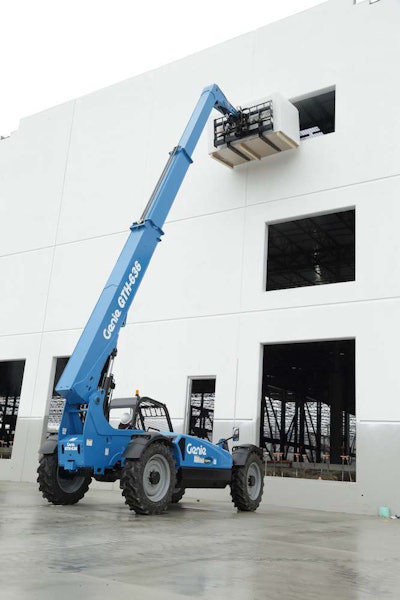 about this is that it's a lighter machine, and it's priced right, so you can probably make some money with it." A lighter machine also means it can be transported with a smaller truck, which takes costs out of delivery and pickup.
"But acquisition costs are number one with us because that's what drives ROI," Keen says. Other top considerations are commonality of parts and ease of maintenance. For Keen's customers, the contractors and industrial clients who rent these machines, operating capacity and boom length are key attributes. And he sees large 10,000-pound-capacity machines taking the place of cranes, especially in applications such as setting light poles.
Additional features
There were some items that did transfer over from Genie's GTH-844: the cab and the side-mounted engine. "We wanted an operator to feel instantly comfortable in both machines," Hislop says. "If he can drive one, he can drive the other."
In the cab, the suspension seat can be adjusted from a 5-foot-4-inch to a 6-foot-10-inch operator. Using a toggle switch, you can choose between front, crab and coordinated (four-wheel) steering modes. A single multi-function joystick controls the boom and forks. Proportional frame leveling adjusts the chassis on uneven terrain by 10 degrees to each side. A ROPS/FOPS canopy is standard; an optional fully enclosed cab includes full glass, defroster, wiper, right-sliding window, split door and washer.
Hislop calls the side-mounted engine compartment on the GTH-844, introduced in 2013, "an instant success. Customers love the visibility and serviceability," he says.
Standard on the GTH-636 features are fenders, an upgraded light package, auxiliary hydraulics and a quick attach with a new lift shackle at boom tip. The shackle allows operators to attach a chain to the quick attach, offering a safe alternative to the dangerous practice of putting a chain over the fork carriage.
Common to all Genie booms, the boom components can be accessed through a service door at the back of the boom, allowing chains, wear pads and hoses to be serviced without separating out boom sections.