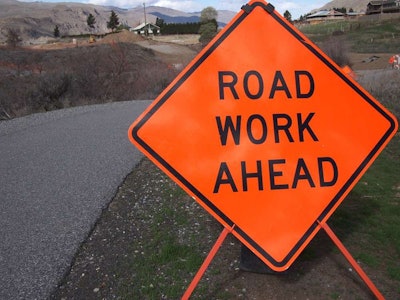 Vehicles crashed into 45 percent of highway contractors' work zones in the past year, according to the study results released Monday by the Associated General Contractors of America.
AGC noted that, according to the study, work zone crashes are more likely to kill motor vehicle operators and passengers than construction workers.
Tom Case, chair of AGC's national highway and transportation division, said 43 percent of contractors who participated in the study reported that drivers and passengers sustained injuries in work zone crashes in 2013, while 16 percent of drivers and passengers died in crashes.
Construction workers are also at risk in those accidents. Case said more than 20 percent of work zone crashes injure road workers, while 6 percent of those crashes kill them.
Additionally, crashes into construction zones cause costly downtime. Case noted that 25 percent of contractors said crashes in 2013 made them stop construction, with 38 percent of those shutdowns lasting two or more days.
The study results show that 67 percent of contractors believe tougher laws, fines and legal penalties for work zone violations would reduce injuries and fatalities; 74 percent noted that an increase in the use of concrete barriers would reduce injuries and fatalities; and 66 percent said more frequent safety training for workers would reduce injuries and fatalities.
Case added that motorists' attention to work zones is the best way to ensure safety for everyone.
"Ensuring proper work zone safety starts and ends with cautious drivers," Case said.
To see and download the results of the study, click here.
Editor's Note: Amanda Bayhi is the online managing editor of sister sites Better Roads and Aggregates Manager.