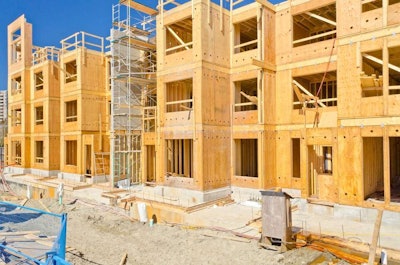 Despite a large upward revision to January's number, housing starts fell slightly in February, according to preliminary data from the Commerce Department.
The Commerce Department revised January's number to a seasonally-adjusted annual rate of 909,000—up 29,000 from the rate of 880,000 reported last month.
February home starts fell 0.2 percent to a preliminary rate of 907,000. That number is 6.4 percent above the February 2013 rate.
Single-family housing starts rose 0.3 percent in February to a rate of 583,000 while apartment starts fell 2.5 percent to a rate of 312,000.
However, building permits were up 7.7 percent in February, suggesting that the reason for the drop in starts was due to the harsh, cold weather seen in January and February and that demand for new housing is still on the rise.
Building permits were issued at a seasonally adjusted annual rate of 1.02 million in February, an increase of 6.9 percent over the same period last year.
The rise in permits is wholly attributed to apartments in February. Permits to new apartments were up 27.6 percent to 407,000. Single-family permits were down 1.8 percent to 588,000.
Home completions rose during February 4.4 percent to 886,000. The figure is 21.9 percent higher than the February 2013 rate.
With a rise in permits and an end of the winter weather in sight, builder confidence increased ever so slightly in March.
The National Association of Home Builders/Wells Fargo index of builder sentiment rose from 46 to 47 in March. However, any reading below a 50 indicates most homebuilders believe market conditions are poor.