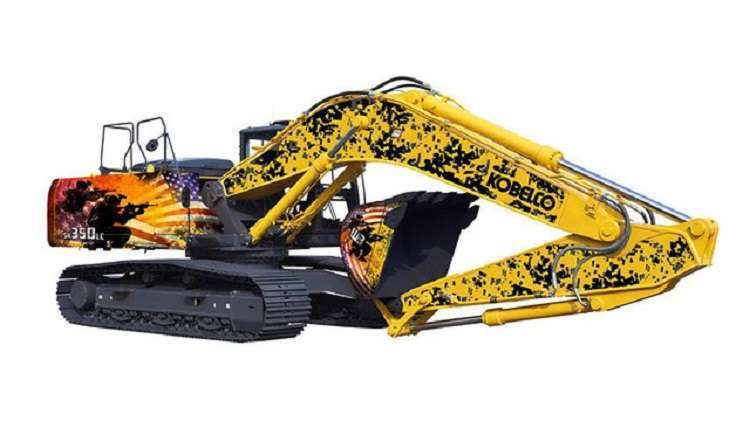 The big ConExpo-Con/Agg 2014 show is just more than two weeks away but we already know that one of our first stops is going to be the Kobelco booth to see a limited edition SK350 crawler excavator the company will have on display.
As you can see in the picture above, the excavator features a patriotic paint job honoring American soldiers for their service. Kobelco has made five of these special edition machines and will have them on sale at ConExpo.
The manufacturer says $100,000 of the proceeds from the sale of those machines will go to the Wounded Warrior Project (WWP), a non-profit organization that supports a full range of programs and services for the current generation of injured veterans and their families.
According to WWP data, more than 47,000 servicemen and women have been injured in the recent military conflicts. In addition, it is estimated that as many as 400,000 service members live with combat-related stress, major depression, and post-traumatic stress disorder. Another 320,000 are believed to have experienced a traumatic brain injury while on deployment.
Attendees are encouraged to have their picture taken with the special edition excavator. In addition, any attendees at the show who would like to donate to the project will be able to do so at the Kobelco display at Silver Lot booth 4408 by dropping donation's in the excavator's bucket.