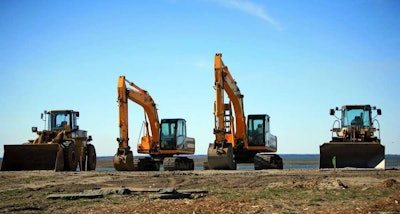 In my first post covering equipment cost-cutting tips 1-10, I addressed several equipment cost cutting basics, including the impact of faithfully using a computerized maintenance management system. Here are cost-cutting strategies 11-20:
11: Eliminate "buddy jobs"
I have seen unnecessary use of two-man jobs many times while analyzing maintenance operations. If they aren't really needed for safety—do you really need to send two? If you need a second person, could it be a lower compensated helper?
12: Master the use of a Pareto chart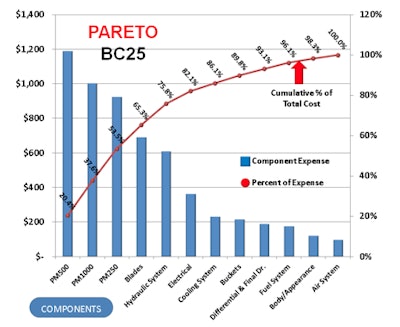 Run a Pareto chart of your highest costs. This is a chart that shows costs in a descending order from highest to lowest with the emphasis on identifying the vital few from the trivial many. Use it to focus on your highest costs. For example, this chart shows a great opportunity to reduce the costs on a backhoe's preventive maintenance service intervals, since the PMs add up to 53.3 percent of the total costs. Strategies to attack these costs could include outsourcing, reducing non-valued PMs or/and extending frequencies. Use this Excel template to assist with this.
13: Use a Cause and Effect Chart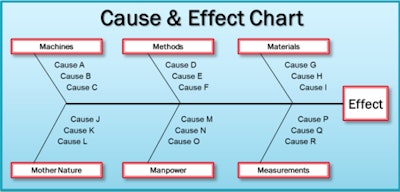 Charter a team to tackle one of the higher costs identified by the Pareto chart. Using this diagram, pin-point the potential causes to the high costs and identify the most probable ones. Apply another Cause and Effect analysis to the most probable ones and gather facts and data on each of those. Learn more about Cause and Effect Charts by watching the video below.
[youtube bNDlg1h-za0 nolink]
14: Cut idling
Idling an engine causes twice the wear on internal parts compared to driving at regular speeds. An idling engine is not operating at its peak temperature, which means that fuel does not undergo complete combustion. This leaves a fuel deposit that can condense on cylinder walls, which can contaminate the oil and damage parts of the engine. Idling equipment consumes, on average, 40 to 50 percent of equipment run hours and 20 to 30 percent of your fuel cost. By reducing idling, you will increase your equipment life and save on fuel and preventive maintenance costs. It also reduces pollutants from emissions. Several ways to reduce idling include: installing GPS monitors, educating employees, auditing equipment in the field and using auto-idle shutdowns on vehicles and equipment.
15: Improve utilization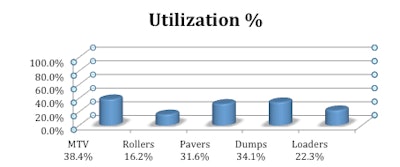 Utilization is affected by many things, but excessive spare equipment lowers it. Don't have more equipment on the books than you actually need—increase the reliability of existing equipment to minimize the need for spares. Spares conceal our inefficiencies. For an example, above is an actual utilization report, which showed a client his key equipment wasn't getting enough hours.
16: Shorten the work week
By reducing from five to four days during slower times, like the off-season, you can still cover off-season work but at a lower labor cost.
17: Cut emergency work
Make sure your emergency work is real emergency work. Because emergency work can cost as much as four to five times as much as non-emergency work, challenging the sense of urgency can help reduce it. Have a clear system to classify your equipment by its impact to your operation, such as A Class, B Class, C Class, etc. Not all equipment is equal in priority. A paver without a backup is more important than one with a backup.
Look at the impact and probability (likelihood) of equipment failing and classify them accordingly. Then use a priority system (e.g. P1=Must be done within 24 hours, P2=Must be done within 3 days, P3=Must be done within 7 days, P4=Must be done within 30 days, P5=Perform during winter shutdown or during an overhaul). By matching the correct classification of equipment to the correct priority, you can cut back on some of the costly emergencies.
18: All workers are not of equal value, so act accordingly
Ask the shop supervisors who the most productive mechanics are and reduce the hours (overtime, etc.) on those that are not, or weed them out. We often accept too much inefficiency because we simply don't want to address it.
19: Implement planning and scheduling
Planning and scheduling work will improve maintenance wrench time or productivity by an average of 50 to 80 percent. You can cost justify a full-time maintenance planner if you have at least six to eight mechanics or techs. A prepped job goes faster than an un-prepped job. Dedicate and train one technician as a planner and you can actually double the amount of work you perform or let you operate with fewer people. I'll be glad to fill you in on sources and seminars for these planners.
20: Provide oversight
Make sure there is adequate oversight, since work can take longer if it is not being sufficiently supervised. "Inspect what you expect." Audit to ensure quality and minimize errors. Just knowing someone will be potentially inspecting or viewing work can keep many on their toes and a little conscious of their level of activity. Too many supervisors get enslaved to their offices and don't spend enough time supervising. Supervisors need to:
Ensure tools/equipment are available
Reduce interruptions and distractions from multiple assignments
Focus on housekeeping and tool control
Manage fatigue, work schedules
Manage boredom by task assignments (rotation)
Ensure appropriate rules/procedures followed
Use job aids and checklists to minimize recall
About the Author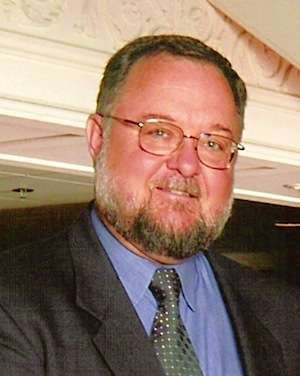 Preston Ingalls has more than 41 years of maintenance experience and is president/CEO of TBR Strategies, a Raleigh, North Carolina-based maintenance and reliability consulting firm. He has consulted with firms that have won the Association of Equipment Management Professionals' Fleet Masters Award for fleet maintenance excellence in 2004 and 2009. In addition, he assisted two other organizations in winning the North American Maintenance Excellence Award.