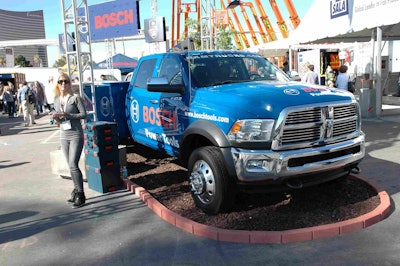 In an agreement that started at last year's World of Concrete, Bosch Power Tools and Ram Truck have formed a marketing partnership that will see several forms, including cross promotion of a truck sweepstakes and joint product development.
Bosch's Christian Heine and Ram's Robert Hegbloom made the announcement.
"This helps strengthen both of our brands," says Robert Hegbloom, director, Ram brand marketing, who also used the occasion to brag a bit on the success of the Ram Super Bowl promotion with Future Farmers of America. "Our customers and their customers are some of the same people."
The World of Concrete Bosch display showcased two Bosch outfitted Ram pickups. "We've found our users spend a lot of time on the road, and so the type of truck they use becomes a big part of the value," says Christian Heine, president, Bosch Power Tools, North America. "So it became a natural that if we wanted to improve their experience with our product, we needed to look at the truck they used."
The two companies plan a joint announcement with a Class 2 Pro Master Van at the Chicago Auto Show next week. In addition to joint branded events, the partnership will include cross-promotional sweepstakes and co-branded customer affinity programing at local, regional and national events.
In the first of these events, the two companies announced their DrillNDrive sweepstakes, open now through February 28, The winner comes away with a $50,000 Ram Truck.