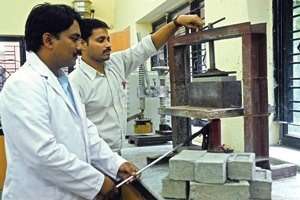 Researchers in India have formulated a process of making cheaper bricks from recycled paper, reports Inhabitat.
Professors Rahul Ralegaonkar and Sachin Mandavgane of India's Visvesvaraya National Institute of Technology visited a recycling plant in 2009 and found that 15 percent of the paper processed there wound up in a landfill as sludge.
So the two researchers took some of that sludge back to their lab and came up with a mixture of the stuff and concrete that works well as a building material. The mixture is 90 percent paper mill waste and 10 percent concrete.
The bricks have successfully been used in false ceilings and partition walls. The researchers have also formulated successful mixtures incorporating effluent treatment plant sludge, cigarette butts and dried sludge from a waste water treatment plant.
The bricks cost half as much to make as regular bricks and could mean a great deal to the Indian construction market which is currently facing a 30 percent supply deficit.
Photo credit: Make