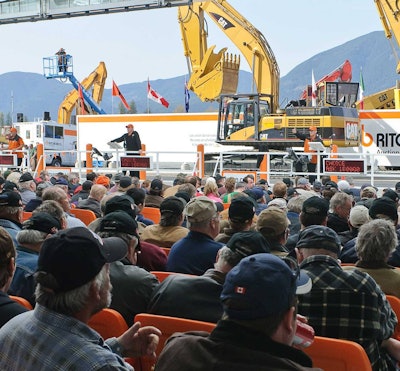 Ritchie Bros. Auctioneers says it has become the first foreign auction company to achieve the status of a Wholly Owned Foreign Enterprise from the Chinese government and will hold its first auction in that country in the Spring of 2013.
The company says it has taken "a number of years" of working with the Chinese government in order to acquire the proper permits for holding auctions in China.
The companies first public auction will be held at the Beijing Tianzhu Free Trade Zone. The venue is located minutes away from the Beijing Capital International Airport and is connected to one of the Country's largest roll-on, roll-off ports.
Ritchie Bros. says that though it's new to the Chinese heavy equipment market, "unreserved industrial auctions have been a quick and easy method for equipment buyers and sellers to conduct business on a global scale." At an unreserved auction, no minimum bids or reserve prices or set, so each item sells on auction day to the highest bidder. Sellers are not allowed to bid on their own equipment to drive up the price.
Ritchie Bros. established its presence in China in 2004 and the company's current customer base includes Chinese equipment manufacturers and construction companies that have been selling their equipment at auctions overseas.
According to a Rtichie Bros. press release, the company sold $3.7 billion of equipment at 339 unreserved industrial and agricultural auctions worldwide.
Equipment buyers and sellers interested in learning more about Ritchie Bros. and the unreserved auction process are encouraged to visit rbauction.cn or contact the Company's Beijing office at +86.400.810.2223.