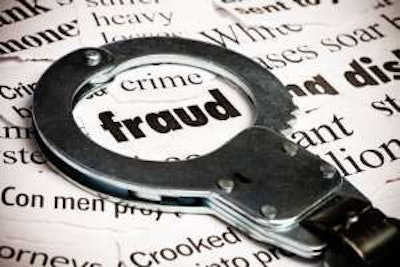 Trucking news and briefs for Tuesday, Sept. 29, 2020:
28 charged in staged-accident insurance fraud scheme
Twenty-eight individuals have been charged over the course of the last 11 months for intentionally staging automobile accidents to defraud trucking companies and their insurance providers, according to press releases from the U.S. Attorney's Office for the Eastern District of Louisiana. Seven of the 28 individuals charged have since pleaded guilty.
Indictments allege that five of the 28 individuals charged were "slammers" who intentionally caused accidents to defraud truck drivers and their insurance companies in the New Orleans metro area. Others among the 28 individuals facing charges were passengers in vehicles used to stage accidents.
One of the so-called "slammers" was Cornelius Garrison, 54, of New Orleans, who was charged Sept. 18 with staging more than 50 accidents and allegedly was paid more than $150,000 by an unnamed co-conspirator.
According to the indictment, Garrison was instructed on how many passengers to use in the staged accidents and to avoid areas patrolled by the Louisiana State Police and instead stage them under the jurisdiction of the New Orleans Police Department, mostly along I-10 from Slidell to Baton Rouge. The indictment also alleges that Garrison and other co-conspirators referred the staged accident cases to various unnamed attorneys, who, according to previous indictments, paid conspirators for their referrals following the staged accidents.
Garrison would target tractor-trailers that were changing lanes, the indictment alleges, and would cause the accident by striking the truck in their blind spot using a "slammer vehicle." After the accident, Garrison would then exit the vehicle from the passenger side to avoid being seen by the truck and told the passengers to call 911 to report they had been hit by a truck. A passenger would then falsely claim to have been the driver at the time of the accident.
New Orleans CBS affiliate WWL-TV reported Sept. 24 that just days after being named in an indictment, Garrison had been murdered in New Orleans. According to the report, Garrison had been cooperating with the FBI and U.S. Attorney's office for several months.
Mack-centered truck show a go for this weekend
One of the late-season fixtures of the truck show calendar is, unlike most other shows in this COVID-19-interrupted year, happening this weekend.
The 31st annual Mack Days show is being held as planned Friday and Saturday, Oct. 2 and 3, at Gerhart Equipment in Lititz, Pennsylvania.
While the show features Mack trucks of all models and years, other vintage trucks are also welcome. There is no entry fee or admission charge. In addition to a field full of vintage trucks, the show features a truck flea market, music, and food.
There is one change this year for the show, however. Organizers say that in order to make the best use of the space available, they are not allowing modern trailers on the show field, and only antique trailers will be permitted.
In addition, all participants and guests "must adhere to CDC, state and local guidelines" in relation to COVID-19.
The show is hosted by the Central Pennsylvania Chapter of the Antique Truck Club of America and Gerhart Equipment.
More hours of service resources – from OOIDA
The Owner-Operator Independent Drivers Association today announced availability of explainer videos via its research affiliate, the OOIDA foundation, for each of the four principal changes to the hours of service rule, which went into effect officially overnight.
"While we think more changes are needed," said OOIDA Foundation Research Assistant Andrew King, "the updated rule is intended to give drivers more flexibility within the regulations and more control over deciding when it is safe to drive and when it is not, without hurting their bottom line. It is important to know what's in the rule and how best to use it."
The videos are available via the "OOIDA Business Education" Youtube channel, with five each explaining, variously, the broad aspects of the rule change itself, the changes to the short-haul logbook exception, the adverse driving conditions except, the required 30-minute break, and the split sleeper berth provisions. The overview video follows:
KeepTruckin partners with Drivewyze to offer weigh station bypass service
KeepTruckin ELD users now have access to the Drivewyze PreClear weigh station bypass services through KeepTruckin's App Marketplace, thanks to a partnership announced Tuesday between the two companies.
Using the KeepTruckin Vehicle Gateway, KeepTruckin customers can take advantage of a special introductory free trial offer of the weigh station bypass service.
"In today's landscape, fleet efficiency has never been more important," said Charles Julius, head of product for KeepTruckin's App Marketplace. "By providing weigh station bypass availability from Drivewyze directly within our KeepTruckin platform, we're helping customers and their drivers stay on the road longer to generate more income and ultimately grow their businesses. The free trial will give a risk-free opportunity to see how trucks can take advantage of this benefit."
With the Drivewyze PreClear weigh station bypass service, KeepTruckin customers can receive bypass opportunities at more than 800 locations in 47 states and provinces. The service requires no transponders to be installed and leverages KeepTruckin's installed Vehicle Gateway.
Small number of Volvos recalled for potential axle issue
Volvo Trucks is recalling a small number of model year 2021 VNL, VHD and VNR models for a potential axle issue, according to National Highway Traffic Safety Administration documents.
The recall affects approximately 12 trucks manufactured between March 27 and July 13 this year, Volvo says. In the affected trucks, the kingpin nut may not have been installed or properly tightened during axle assembly.
Volvo will notify owners, and dealers will inspect the vehicle to make sure that the king pin nut is installed and that it properly tightened. Owners may contact Volvo Trucks customer service at 1-800-458-1522 with recall number RVXX 2003. NHTSA's recall number is 20V-535.