Previous piece in this feature package: Righteous whistleblower or 'disgruntled employee'?
Filing a complaint can be done via the National Consumer Complaint Database at nccdb.fmcsa.dot.gov. If you click through to the "Driver" section of the website's navigation, you will see the option for a "Truck Complaint" and, under that heading, "Coerced to commit a violation."
Complaints are routed to division offices of the Federal Motor Carrier Safety Administration, which are in every state.
To be an actionable coercion complaint, the driver first must tell the shipper/receiver, broker, freight forwarder or carrier that doing what is being asked will violate a federal regulation. Then, the other party would need to take action or make threats that can be interpreted as an attempt to limit work opportunity.
An oft-shared example is if a driver's out of hours due to no fault of his/her own and a shipper or broker threatens to withhold future work if the delivery isn't made on time. Since a threat can be actionable, the coerced violation doesn't have to occur.
If punitive retaliatory action is taken by an employer after a company driver or independent contractor's refusal to violate a regulation, a complaint via the Occupational Safety and Health Administration's whistleblower process could force the employer to reverse their action, whether that's retaliatory firing or something else: Visit OSHA.gov/whistleblower/WBComplaint.html. Legal help with this process can be effective in securing compensatory damages in such a case.
Here's the minimum of what FMCSA wants to know with any complaint:
The name, address and telephone number for you and the company coercing you.
Origin and destination of the shipment.
The U.S. Department of Transportation (DOT) and Motor Carrier (MC) identification numbers, if available. This might not be applicable to most shippers and receivers, but would be for a broker or forwarder.
Specific violation(s) alleged. This could include violation of the coercion prohibitions in 49 CFR 390.6 (or ELD-related harassment in 49 CFR 390.36), as well as underlying violations that were coerced.
Documentation of the coercive act. Text or email messages and your replies, log screenshots, electronic logging device records, etc., are encouraged.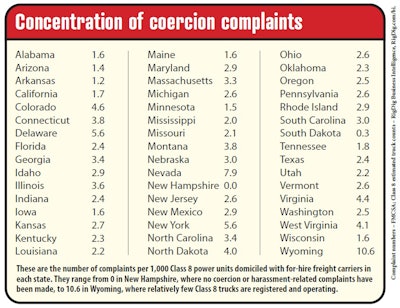 "If your carrier wants to force dispatch on you," says a current safety director who formerly drove, and who declined to speak on the record, "send them the following text or message: 'Per FMCSR 392.3 [or other rule that would be violated] and the Driver Coercion Rule, I would suggest that you allow me to drive per regulation. I will follow through with FMCSA notification requirements if you continue to force me to drive beyond legal limitations.' "
Submitting to the coercion to violate regulations will, of course, open you up to potential problems if inspected. Clear annotations within the log and a copy of your complaint to DOT, should you make one, might explain the issue for most officers. That's hardly guaranteed, though, since interpretation of e-logs in questionable circumstances has been uneven under the ELD mandate.
FMCSA and state partners could do more to publicize the methods for reporting coercion incidents, says Lewie Pugh of the Owner-Operator Independent Drivers Association. Too many drivers and owner-operators "don't realize the National Consumer Complaint Database is for coercion complaints," in addition to consumer complaints about household-goods haulers and much more.
Also in this package:
Cracks in the system: Blowing the whistle on coercion
The irony of e-logging and coercion: Complaints on a steady rise since mandate
Drivers citing coercion face an uphill battle
Parties other than carriers now subject to enforcement under the coercion rule
Righteous whistleblower or 'disgruntled employee'?