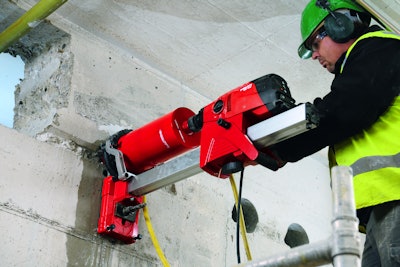 A power control LED indicator system helps inexperienced users accurately core up to 8 inches in diameter on the new Hilti DD 160 Diamond Coring System.
The light turns green if the operator is using the proper amount of pressure during the drilling process. The easy-to-handle system is designed for coring concrete walls and floor decks, drilling penetrations for pipes, and creating through-holes for ventilation ducts or cable installations.
The DD 160 has a 2200W motor and three-speed gearing, plus the choice of two different drill stands: a basic version at 36 pounds, with a compact base plate for anchor fastening; and a premium stand at 47 pounds, which has a tilt mechanism and vacuum base plate for vacuum fastening.
Christy Notareschi, senior manager of rental marketing with Hilti, explains features of the drill in this video, taken at the recent Rental Show.
[youtube tihJWz_0eGw nolink]