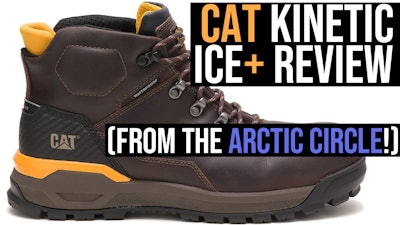 Recently I had a chance to test out some cold weather boots and gloves in Alaska—north of the Arctic Circle in fact—in temps as low as -30 degrees.
Yeah, that's cold. And yeah, I'm glad I had these boots.
The boots are a new product offering from Cat Footwear called the Cat Kinetic Ice +. They are insulated with 200 grams of Thinsulate and feature a unique Vibram Artic Grip Pro tread for slip resistance on ice. They also have electric shock hazard protection, a composite toe, nylon shank for arch support and a scuff resistant heal cap.
Check out this video or read on below for my full review.
Walking around the streets of Anchorage I got a good feel for the slip resistance, as 90 percent of the sidewalks were iced over and the temperature never rose above 20 degrees the whole time I was there. The Artic Grip Pro tread proved definitely proved its worth.
I tried to slide on a couple patches of ice and while there was a little bit of slip, it seemed to arrest quickly.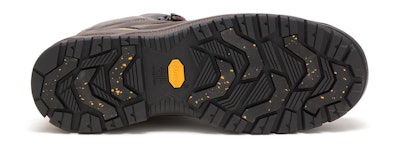 You can't run and slide in these boots. To the touch the tread feels quite grippy and rubber like, even in sub-freezing temperatures. The tread is also fairly aggressive, for better bite in the snow and some of the tread blocks have what the tire folks call siping, thin grooves cut into the tread that squeegee away water from underneath your feet.
I also noticed that the heel of these boots when viewed from the side curved out ever so slightly. This wasn't mentioned in the press materials, but I think this is an important feature. It gives the boot a tad more tread on the ground (increasing your "contact patch" as the tire guys would say) which improves traction. It also forces you to take slightly smaller strides unlike a beveled heal which allows you to lengthen your stride. But on ice and snow you want to use that shorter, more flat-footed stride to prevent your lead foot from scooting out from under you on a slippery patch.
So all in all, I was very pleased in the traction performance of these boots on snow and ice. And I wore them all day long, every day as well and found them very easy on the feet and good looking too.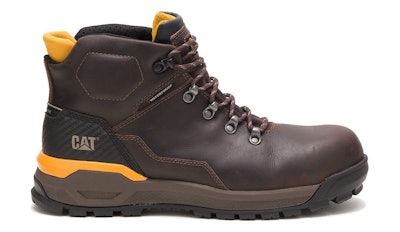 As for keeping my feet warm… Anchorage was cold. It briefly hit 20 degrees one afternoon, but otherwise most of my walks outdoors were in the 10 degrees to minus 10 degrees. In these temps, the boots did fine. My feet weren't toasty, but they never are, so let's just say they were never uncomfortable.
But I also spent two days in Kotzebue, a tiny town 30 miles north of the Arctic Circle, where temps never broke zero and at one point were -20 to -30 degrees.
At that point, jumping in and out of the truck to look at construction projects and take photos my feet did get cold. The contractor I was with told me the only footwear that works in these temps are called Bunny boots and were invented in the Korean war for temps from -20 to -60. These have an air chamber like a Thermos bottle and air valves that you adjust to keep them from bursting when it gets warm, but few if any people actually work outside in these conditions so Bunny boots were not an option.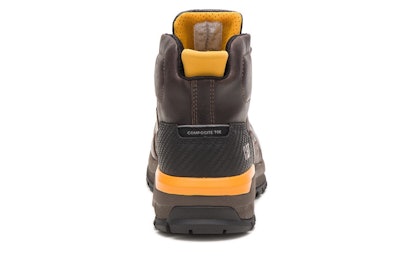 So as long as you're in the Lower 48 the Cat Kinetic Ice + boots should serve you well, especially in preventing slips and falls—the number one cause of accidents on construction sites. They retail for about $185 at the Cat Footwear website and at Amazon.
And remember, while spring is just around the corner, in the northern states, the freeze-thaw cycle will run for several more months. And that typically is when you get most of the ice dangers, when snow melts in the daytime, freezes overnight and stays frozen until the afternoon the next day.