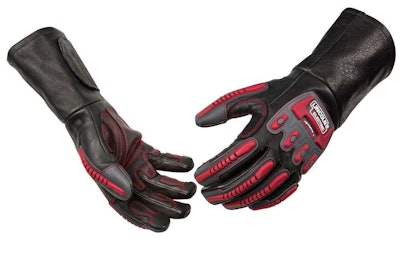 Eliminate the need for separate gloves when welding and rigging with Lincoln Electric's Roll Cage welding and rigging gloves.
The dual-purpose gloves, constructed from fire-resistant cowhide, sewn with Kevlar thread and enhanced with high temperature resistant silicone pads, are also useful for cutting and grinding.
Safety features include a special protective overlay on the palm that reinforces high wear areas, an inside lining that protects against cuts and a longer length cuff that protects wrists and forearms from heat and sparks.
The gloves are secured with fire-resistant Velcro wrist guards that allow for quick removal.