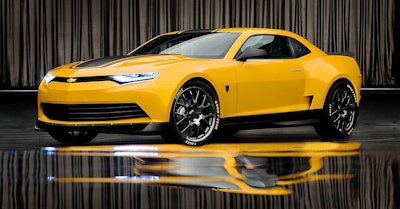 It's odd how small changes can have such a big impact.
That's what runs through our heads each time we look at the 2014 Camaro concept car that Chevrolet has cooked up for the next installment in the 'Transformers' movie franchise. The concept Camaro will play the roll of the Autobot Bumblebee in the next movie.
Back in May, we showed you the next Optimus Prime, built by Western Star, alongside a modified 1967 Camaro SS that was originally thought to star as Bumblebee. But apparently that '67 will play Bumblebee for only a part of the movie.
The concept Camaro features features a front end with a few key changes from the 2013 Camaro. There's a new longer, thinner headlight design that stretches toward the fenders, while the half of the grille has been thinned out to be barely larger than the gold bow tie logo it surrounds. The bottom half of the grille has grown a bit to make up for the top half's sleeker design.
In the end, the concept definitely fits the whole mechanical alien look of 'Transformers' much better than the 2013's racing styling, but we can't tell if we like it as a direction for the production model. That's probably because we can't shake the notion that the concept also looks a heck of a lot like a Chevrolet Cavalier. What do you think?