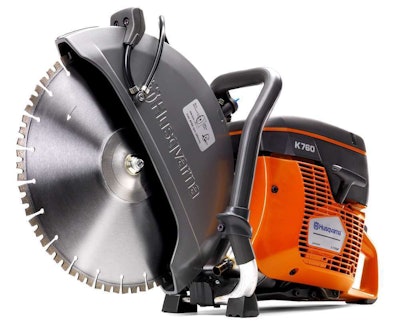 Husqvarna has announced an update to its K 760 power cutter that boasts several improvements over the last generation.
The K 760 is equipped with a cooling fan, has an increased capacity and makes for a reduction in emissions of 15 percent.
The cutter also features a new, lighter blade guard that gives increased balance and contributes to the lower weight. The blade guard can be adjusted and comes with a reversible blade.
Husqvarna says that the K 760 boasts one of the best vibration ratings on the market at <2.5m/s². The wet cutting kit with a progressive valve increases dust control. A new tank ventilation system ensures optimal air supply to the tank.
The K 760 still includes many of the great features that were on the previous K 760, such as the advanced carburetor and effective active air filtration.