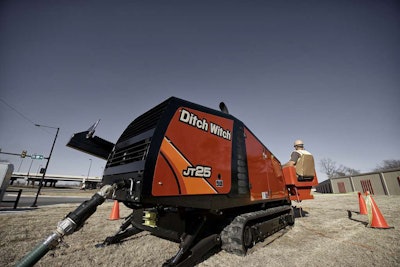 Ditch Witch has launched its latest horizontal directional drill, the JT25.
Designed for utility pipe and cable installs up to four inches in diameter, the JT25 boasts thrust and pullback of 27,000 pounds and 4,000 foot-pounds of torque. The drill is capable of installs at lengths of up to 500 feet.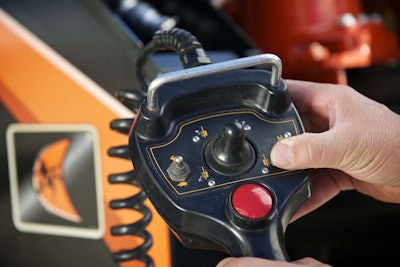 A quiet, 130-horsepower Cummins Tier 4 interim engine powers the drill. In addition to the increased fuel efficiency the engine offers, Ditch Witch says this is the quietest drill is offers. The JT25 can be operated with either single or dual-joystick control of thrust and rotation and the drill features an automated carve mode.
Maneuverability was another key in the design process. With a footprint of 19.54 feet long by 7.25 feet wide, the JT25 can move around a tight jobsite with relative ease.
Ditch Witch also points out the time it spent on improving uptime, durability and stability. With a low center of gravity, rear independent stabilizers and a dual-pivot frame, the JT25 can handle steep entry angles while keeping the tracks on the ground.
Service points on the drill have been centralized to one location and there are no grease points. Check out a video of the JT25 in action below.
[youtube A1XLoCEu9ak nolink]