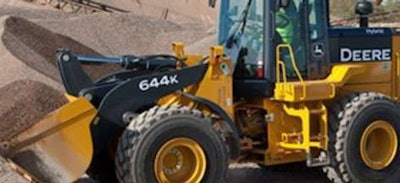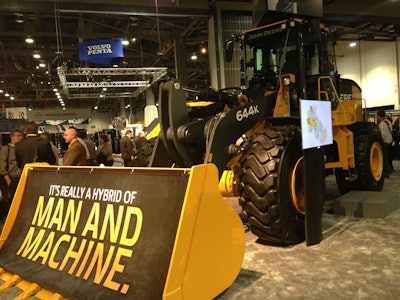 John Deere Forestry and Construction showcased its new 644K Hybrid wheel loader at a World of Concrete 2013 press event in Las Vegas Tuesday. The electric hybrid loader is an exciting concept and Deere's John Chesterman, global product marketing manager for four-wheel drive loaders, gave Equipment World and sister publication Better Roads an in-depth look at what makes the 644K tick.
[youtube jkgZfFabheg nolink]
The new loader uses two sources of energy — diesel and electric — capturing regenerated energy as it's being created to power the machine. The hybrid wheel loader is going into production now and should be on dealer lots in March, Chesterman said.
The 644K Hybrid is equipped with a John Deere PowerTech 6.8-liter Interim Tier 4/Stage IIIB engine that runs at an operator-selected constant speed from 900 to 1,800 rpm. The hybrid has a net 229 horsepower and is equipped with all the key features of the conventional John Deere K-Series Wheel Loader line. (See the spec list at the bottom of this post for an at-a-glance look at the machines features.)
The engine size is actually smaller than a conventional wheel loader in that it runs at a constant engine speed.
"It always has full power and creates electric energy," Chesterman said.
All of the loader's energy travels through three distinct orange cables. The simplified transmission does not have a reverse gear. It's not needed. The 644K Hybrid has four operating speed ranges, but no reverse gear or clutches as direction changes are performed by the electric motor.
Four main components pace the 644K's electric-drive technology – the generator, inverter, motor and brake resistor.
Like conventional K-Series Loaders, a Sealed Switch Model (SSM) gives fingertip control of keyless start and 24 other machine functions. New to the SSM are engine speed adjust and coast control. The coast control feature allows the operator to enable dynamic braking through the SSM, reducing mechanical brake wear.
The machine's generator is brushless and converts the rotational energy from the engine into three-phase alternating current (AC) electrical energy. It can also be driven as a motor to use recycled energy to drive hydraulics and save fuel.
The water-cooled inverter is a solid-state electronic system that delivers electrical energy to the motor.
The single electric motor is also brushless and converts three-phase (AC) back to rotational energy and torque. It replaces the job of a torque convertor, but can also work as a generator to recycle energy back into the system.
Because of the way the engine operates, the machine runs two decibels lower than the Interim Tier 4 model. A 3-decibel reduction is 50 percent quieter, Deere says, making for a noticeable difference in noise.
The water-cooled brake resistor passively consumes energy whenever the power electronics actively control its circuit and is only needed to consume excess recycled energy.
A quick look at the 644K Hybrid specifications
Engine Emission Level: IT4/ Stage III B
Displacement: 6.8L (415 cu. in.)
Net Peak Power hp (kW): 229 (171)
Transmission Type: Hybrid-electric drive
SAE Operating Weight lb. (kg): 40,436 (18,341)
Tipping Load – Straight lb. (kg): 31,061 (14,089)
Tipping Load – Full Turn lb. (kg): 26,992 (12,243)
Tina Grady Barbaccia is the Executive Editor of Better Roads. Click here to visit Better Roads.