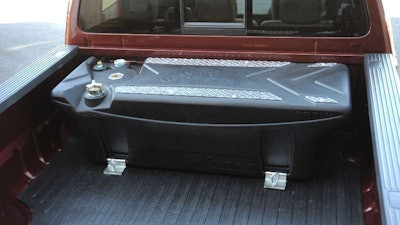 Prevent rust and corrosion in your fuel tank with the Model 5010060 polyethylene in-bed diesel fuel tank from Titan Fuel Tanks, available for Chevrolet, Dodge, Ford and GMC diesel pickup trucks.
Composed of military-grade cross-linked polyethylene, the tanks are unaffected by the corrosive properties of diesel and biodiesel fuels and additives that would adversely affect steel fuel tanks.
The tanks also are fully-baffled, preventing load shifting. Weighing just 51 pounds, the 60-gallon tanks are easily maneuverable and simple to install, compared to in-bed steel tanks that can weigh up to 250 pounds empty.
Offering 200 times less thermal conductivity than steel, the polyethylene construction of the tanks eliminates condensation, and keeps fuel cooler and closer to optimal combustion temperatures than metallic tanks, boosting fuel efficiency.
The tank is sold as a complete kit and is secured to the truck bed with forged eye nuts. Options are available, including a utility riser bracket that provides four inches of under-tank storage.