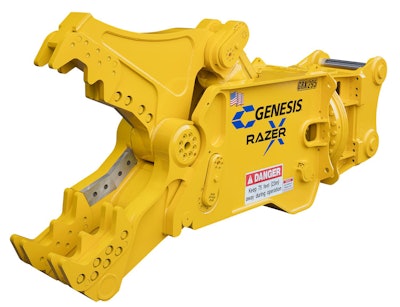 Genesis Attachments says the latest addition to its line of Razer X Multi-Jaw Demolition Tools can undergo jaw changes within 2 minutes, and the excavator operator doesn't have to leave the cab.
The new GRX 295 is available with shear, cracker and pulverizer jaws for such tasks as concrete and structural-steel recycling, construction and demolition debris processing, general demolition and bridge tear-down.
The GRX 295 is compatible with excavators weighing at least 66,000 pounds. It joins the GRX 395 Razer X, which is for excavators of at least 90,000 pounds.
Features on the Razers include a short flat head with bolt-on brackets for easy lug changes when mounting and a heavy-duty pivot. Hydraulic-activated pins connect to the jaw and cylinder for quick jaw changeout. A reverse-mounted cylinder protects the rod from debris, the company says.
The tool also has bolt-on, reversible wear parts. Each jaw comes with its own stand for positioning the attachment for connection and disconnection.
Jaw opening for the cracker and pulverizer is 38 inches, and 20 inches for the shear. Jaw depths are 32 inches for the cracker, 30 inches for the pulverizer and 20 inches for the shear.
To watch the connection and disconnection process, see the video below: