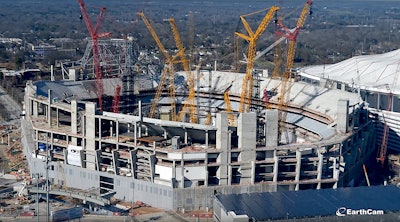 The Atlanta Falcons have released the incredible EarthCam time-lapse video of the construction of the NFL franchise's new Mercedes-Benz Stadium.
Construction of the huge facility cost an estimated $1.6 billion and took crews 39 months to complete. EarthCam had its cameras on the jobsite since June 2014 and each day captured massive 900 megapixel panoramas to document the project. The images were combined for the 2 minute time-lapse below.
The stadium has been pretty busy since construction was completed. In the last few weeks the stadium has hosted the kickoff of the college football season with a matchup between Alabama and Florida State; the largest crowd to ever see a Major League Soccer game; and the Falcons' home opening win over the Green Bay Packers Sunday night.