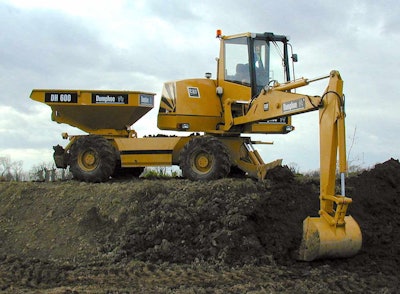 While cruising through a heavy equipment forum recently I stumbled upon a photo of a machine that can only be classified as…"interesting."
The machine had the front end of a mini excavator but the rear end of a site dumper. The whole thing sat on four rubber tires. The forum user mentioned that they thought the machine was made by an Irish company called Keltec and that it had never gone to market.
A quick Google search and sure enough, with a couple of clicks I found myself on Keltec Engineering's webpage dedicated to the "Dumphoe." You can check it out in action (with some sweet, sweet accompaniment by Coldplay) in the video below.
Details are scarce on this little machine. Beyond the specs listed on the Keltec website (which appears to have been abandoned by the company for a newer page at a different address) Google searches don't turn up anything else about it other than a few low resolution photos.
Based on information listed on the Keltec site, the Dumphoe was Frankenstein-ed together using Caterpillar machine components and was powered by a 92-horsepower Cat 3054T engine. The machine could dig, haul and dump and had a load rating of 6,000 kg (13,227 lbs). The unladen weight of the machine was 8,500 kg (18,739 lbs.). It had a two-speed hydrostatic transmission, two-wheel, four-wheel and crab steering and could travel up to 20 miles per hour. Controls were joysticks and it featured load sensing hydraulics.
It's unclear when the Dumphoe was built (the below video was posted by Keltec in 2010) or if it ever went to market in any capacity, though it's no longer listed under the Keltec product listing on the company's new website. If you know anything else about this machine we'd love to hear from you!