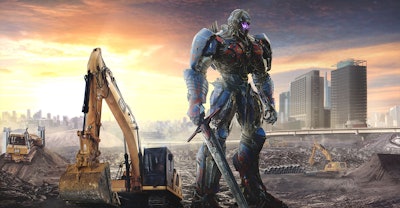 The latest of what feels like 100 Transformers movie sequels has hit theaters and we know you're probably itching for the weekend for a chance to see what explosion fanatic and director of movies Michael Bay has in store for us in "The Last Knight." (And if you're anything like me it will be a complete surprise because I can't make sense of any of the trailers for this movie. Something about King Arthur, Optimus Prime being a bad guy and also now there are dinosaur Transformers? Oh, and Anthony Hopkins has decided he would like some Transformers money too.)
Along with the movie's release, Caterpillar has announced that one of its machines has a small part in the film. The company says a Cat 320 excavator can be seen "hiding in an auto salvage yard" alongside Mark Wahlberg's character Cade Yeager and a group of Autobots. You can see a clip of that scene in this trailer and the still shot below: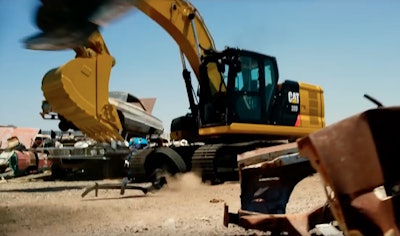 Kurt Norris, Cat's global marketing manager for Global Construction & Infrastructure, says that an excavator appearing in a Transformers movie exemplifies the "paradigm shift" to "the Age of Smart Iron."
Expanding on that even further is Jessica Nunley, the global marketing innovation manager for construction equipment at Cat:
"The attributes associated with the Transformers movie franchise—strength, loyalty and protection—line up perfectly with the Caterpillar brand. The Autobots take on the role of partners who help the movie's hero rise to the challenge, and Caterpillar views our customer partnerships the same way. As we develop new products for the jobsite of the future, we're all about transformation. We want to help our customers change the construction industry for the better."
Cat even made a Transformers version of its logo to celebrate the cameo. You can check it out below. "Transformers: The Last Knight" is in theaters now.