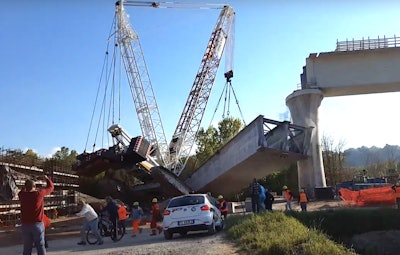 A crane working on the construction of a viaduct in North Italy collapsed last week, and miraculously without any injuries.
According to a report from crane site Vertikal, the crane was performing a lift on a large piece of the viaduct in Varese May 9 at the Arcisate Stabio railway yards when it suddenly overturned.
The crane is owned by a company called Vernazza and was "rigged with a back mast and suspended superlift counterweight," Vertikal reports, adding that the operator managed to jump clear of the cab and suffered no injuries.
Below are two videos of the incident. The first shows just the collapse itself while the second shows the moments leading up the collapse as well.