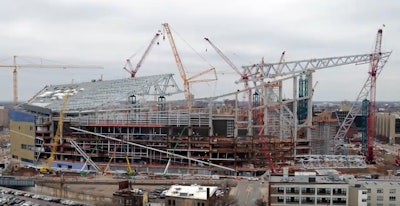 With an undefeated 5-0 record and a strong claim to the best team in the NFC, the way the NFL's Minnesota Vikings are playing football right now is making a few more headlines than the team's new stadium has. That being said, Vikings fans are enjoying winning football inside a home stadium that is a huge upgrade over what they had prior to this year.
Between 1982 and January 2014 the Vikings called the Metrodome home. That dome has been replaced with U.S Bank Stadium, a $1.1 billion, 1.75-million-square-foot facility that is, as Bryan Truby of HKS Sports Architects put it to CBS Minnesota, "the first fixed-roof, virtually-outdoor stadium ever built."
The stadium features massive doors and views of downtown that allow it to bring in the outdoors when weather permits, and shut out the cold once November and December roll around.
The time-lapse below captures the 2 1/2-year project in its entirety from the demolition of the Metrodome to opening day of the new stadium.