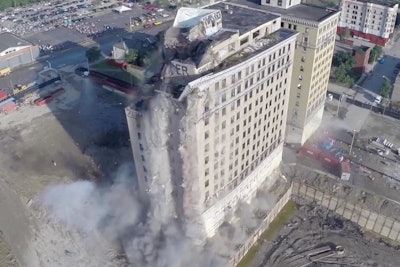 Just a week after the thunder and pop of July 4th fireworks filled the air, residents of Detroit gathered for an explosion of a different type.
According to a report from the Detroit Free Press, crews with Adamo Demolition packed the Park Avenue Hotel, located in the city's Cass Corridor, with 200 pounds of dynamite for an implosion July 11 to make room for the new Red Wings hockey arena.
The 13-story, 252-room building was erected in 1924 but was most recently used as a senior rehabilitation center. After several blasts from the ground floor, the rest of the building quickly crumbled after.
In the video below, captured by a drone hovering closer to the blast than just about any other camera can comfortably be positioned, you get an amazing, sweeping view of the building's successful demolition.
The new Red Wings arena is expected to be completed by September 2017, the Free Press reports.