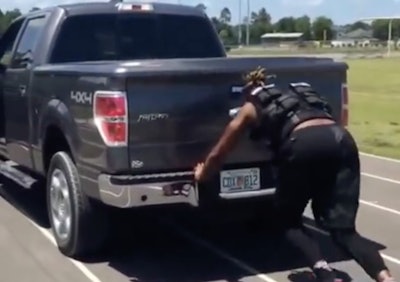 The don't call him 'El Tractorcito' for nothing.
Despite his intimidating 6-foot-3, 242-pound frame, University of Alabama running back Derrick Henry didn't get his nickname for his size. He got it for the way he pushes through the line of scrimmage on the football field, his legs always churning. And now we have a much better idea of why it all looks so easy for him.
As he prepares for what is likely his biggest season for the Crimson Tide, the junior running back is using pickup trucks and giant tires to get in shape. And he's doing it all while wearing a weight vest. Who needs a D10 for getting stuff unstuck on the jobsite when you've got a guy like this around?
And if he's shoving trucks around with the kind of ease displayed in the video below, opposing defenses had better look out when the season begins later this year.
Via: Yahoo! Sports