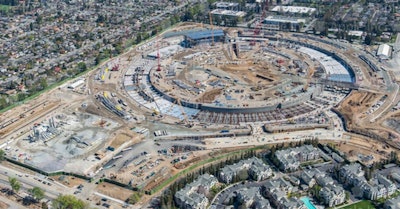 While Google is still in the early phases of design and approval with ambitious plans for upgrades to its campus, construction on Apple's new Campus 2 is fully under way.
KQED was recently granted a tour of the jobsite by Apple. There are actually two versions of the article, one published by NPR and another on the KQED blog and each have their own interesting detail.
The former version reports that 1,000 construction workers are currently staffed on the massive site along with 1.5 million tons of concrete. The 2.8 million-square-foot building will be set among 176 acres of trees.
But before construction began, the site was mostly asphalt and concrete buildings, formerly occupied by Hewlett Packard. And that's where the detail from the KQED blog comes in:
Whisenhunt says 95 percent of the old site – including HP buildings, sidewalks and other features, is being recycled onsite rather than trucked to a landfill. That material is being ground down and used to construct the large concrete pieces that serve as a frame for the new circular building.
"It keeps all the cement trucks within the bounds of this site and off the road," said Whisenhunt. "So it's another innovation in construction that we're proud of on this site."
Despite all the concrete for the frame, the building will mainly consist of glass—4 miles of glass to be exact. You can watch drone footage of the jobsite, taken earlier this month, below.