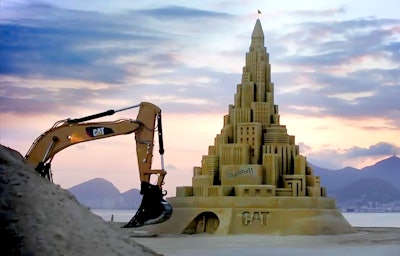 Everyone knows the best part about building a sand castle of any significance is getting to kick it into nonexistence afterward. Thankfully, the folks at Caterpillar didn't forget that when breaking a Guinness World Record.
The latest in its series of Built for It Trials videos, Caterpillar built the behemoth sand castle in Rio de Janeiro, Brazil. While Cat hydraulic and mini excavators did most of the heavy lifting with help from a wheel loader, seven sculptors handled the finer details of the castle. Construction of the castle started in late October and took two weeks and 960 cubic yards of sand to complete .
On November 11, a Guinness World Records representative named the castle the tallest ever after measuring a height of 41 feet, 3.67 inches—topping the previous record-holder by more than 3 feet. Shortly after receiving the award, they dismantle their creation. Watch the video below.